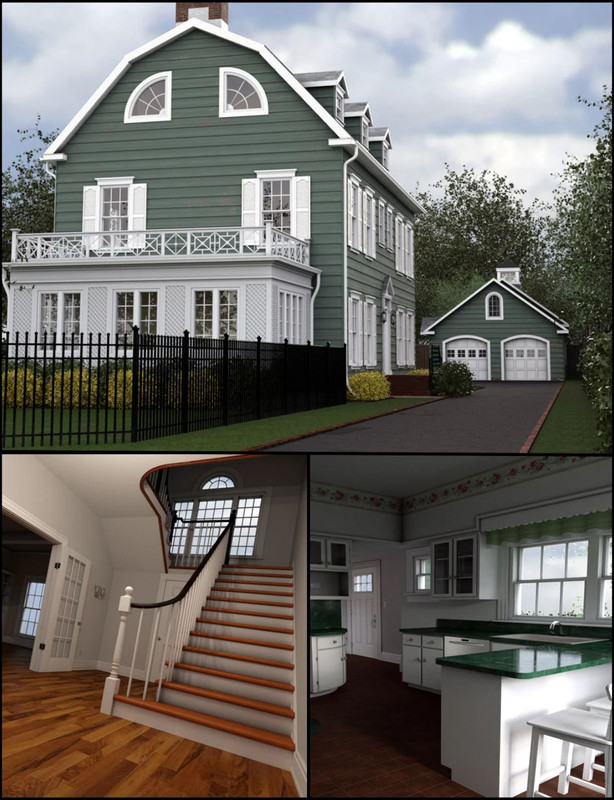 Collective3d Long Island Mansion
The Collective3d Long Island Mansion is based on the original 1926 floor plans of the infamous 112 Ocean Avenue in Amityville, New York. This full interior/exterior house is approximately 4500 square feet, and is two and a half stories tall, with a partially finished basement that includes the mysterious "red room" that was allegedly the source of the demonic possession. It features a family room, a formal entry, formal parlor, formal dining room, sun porch, country kitchen, three and a half bath rooms, six bedrooms, and spacious cubbyholes on the third floor. Also included are the combination garage/boat house, the lawn, sidewalk, and driveway, fences, and foliage!
As an added bonus, the Collective3d Long Island Mansion also includes twenty four exclusive new items for your Create a Room library! The Create a Room content installs directly into your Create a Room folder, so there is no hunting around, and includes plumbing fixtures, light fixtures, bookshelf, china cabinet, fireplace, trees, shrubs, hedges, and more!
https://www.daz3d.com/collective3d-long-island-mansion


File Hosting: Mega.nz