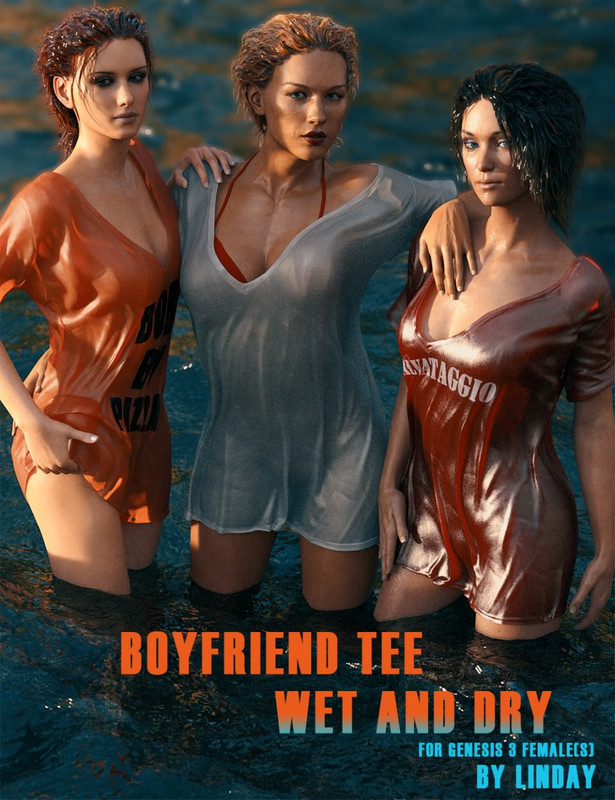 Boyfriend T-Shirt Wet and Dry for Genesis 3 Female(s) [Update for Genesis 8 Female(s)]
Boyfriend T-Shirt Wet and Dry for Genesis 3 Female(s) [Update for Genesis 8 Female(s)]
Details
The first time ever real wet tee in the store! Two in one classic wardrobe essential boyfriend tee and a dripping wet top right from the beach…
Two different styles in one product and smooth switching between dry and wet. HD Morphs for more realistic look. All JCMs and Style Morphs are doubled for dry boyfriend tee and for the wet one.
What's Included and Features
Boyfriend Tee Wet and Dry for Genesis 3 Female(s) (.DUF)
Adjustment and Style Morphs:
Abdomen Lower Loosen
Abdomen Upper Loosen
Back Loosen
Back Up L Wet
Back Up L
Back Up R Wet
Back Up R
Back Up Wet
Back Up
Breast Loosen L
Breast Loosen R
Chest Lower Loosen
Chest Upper Loosen
Collar Loosen L
Collar Loosen R
BreastsImplants_Wet
BreastsImplants
BreastsNatural
FBMBodybuilderDetails_Wet
FBMBodybuilderSize_Wet
FBMBodySize_Wet
FBMFitnessDetails_Wet
FBMFitnessSize_Wet
Front Part Side L
Front Part Move L
Front Part Move R
Front Part Side R
Front Up L Wet
Front Up L
Front Up R Wet
Front Up R
HD Wet Shape Wrinkles More
HD Wet Shape
HD Wet Wrinkles For Base Shape DS
lThighBend_CTRLMD_N_XRotate_n115
lThighBend_CTRLMD_N_ZRotate_85
More Cloth Seams
PBMBreastsCleavage_Wet
PBMBreastsCleavage
PBMBreastsDiameter_Wet
PBMBreastsDiameter
PBMBreastsGone_Wet
PBMBreastsGone
PBMBreastsHeavy_Wet
PBMBreastsHeavy
PBMBreastsPerkSide_Wet
PBMBreastsPerkSide
PBMBreastsSize_Wet
PBMBreastsSize
PBMBreastsSmall_Wet
PBMBreastsSmall
PBMIzabella7Breasts
PBMNipples_Wet
PBMNipples
PBMNipplesSize_Wet
PBMNipplesSize
Pelvis Loosen
Shoulder Loosen L
Shoulder Loosen More L
Shoulder Loosen R
Shoulder Loosen More R
Show Breast L Wet
Show Breast L
Show Breast R Wet
Show Breast R
Show Shoulder Bend L
Show Shoulder Bend R
Show Shoulder L
Show Shoulder R
Thigh Loosen L
Thigh Loosen More L
Thigh Loosen More R
Thigh Loosen R
Wet Shape
Supported Shapes:
FBMArabella7
FBMBethany7
FBMEva7
FBMGia7
FBMGirl7
FBMIzabella7Body
FBMJosie7Body
FBMKalea7
FBMKaren7
FBMMeiLin7
FBMOlympia7
FBMSunny7Body
FBMTweenJulie7
FBMVictoria7
FBMVoluptuous
FBMLilith7
FBMAiko7
FBMRune7
FBMBodybuilderDetails
FBMBodybuilderSize
FBMBodySize
FBMFitnessDetails
FBMExpandAll
FBMFitnessSize
Other Shapes Supported by Auto-follow
Material Presets:
Default White
Sailor
Camo
Skull Black
Skull Flag Camo
Skull Flag Gold Camo
Skull Flag Gold
Skull White
Text A Orange
Text B Orange
Text C Orange
Text D Orange
Wet Presets
Textures Include:
55 Texture, Normal, Roughness and Transparency Maps (4096 x 4096)
Daz Studio Iray Material Presets (.DUF)
Notes:
This product includes:
1 DSON Core Installer for Genesis 3 Female(s).
1 DSON Core Installer for Genesis 8 Female(s).
IM00034155-01_BoyfriendTShirtWetandDryforGenesis3Females.zip
IM00034155-02_BoyfriendTShirtWetandDryforGenesis8Females.zip