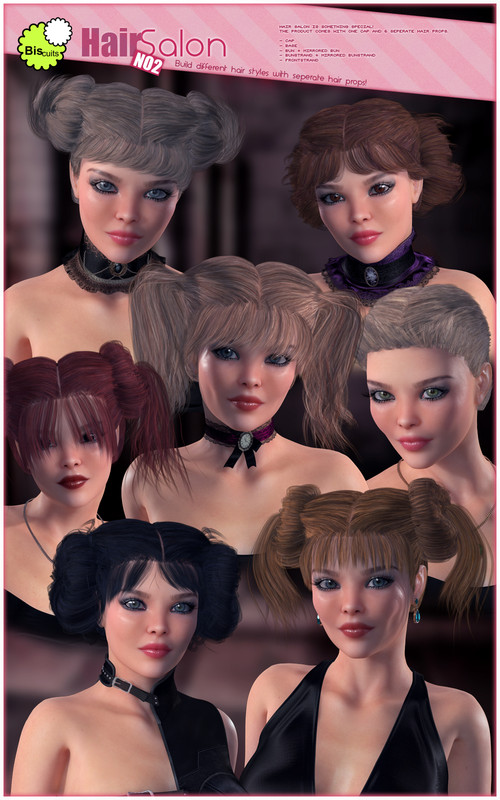 Biscuits Hair Salon NO2
Hair Salon is something special!
With seperate hair props you can build different hairstyles.
And you can mix and match the hairprops with others from my Hair Salon Line!
The default fit is for Victoria 4, but it's very easily scaled to fit for example A4 or G2F.
—
Please note this Product is Poser ONLY > Not for DS.
System Requirements:
– For Poser 8 and higher (http://poser.smithmicro.com)
– For both Scripts Poser 9 and higher
—
The product comes with one Cap and 6 seperate Hair Props.
– Cap
– Base
– Bun + Mirrored Bun
– BunStrand + Mirrored BunStrand
– FrontStrand
You can pick any combination props, just make sure you always load the cap first.
—
Also included Presets:
– Default (Loads all the hairprops as one hairstyle)
– 9 Styling Presets
—
Also Included Zero Poses for each hair prop and all hairprops, to zero all the values on the morphs.
—
It comes in 15 colors for the cap and 15 single colors that will fit on all hair props.
This makes it possible to combine a blonde bun with a black base for example!
https://www.renderosity.com/mod/bcs/biscuits-hair-salon-no2/108414


You need to be a member to see this