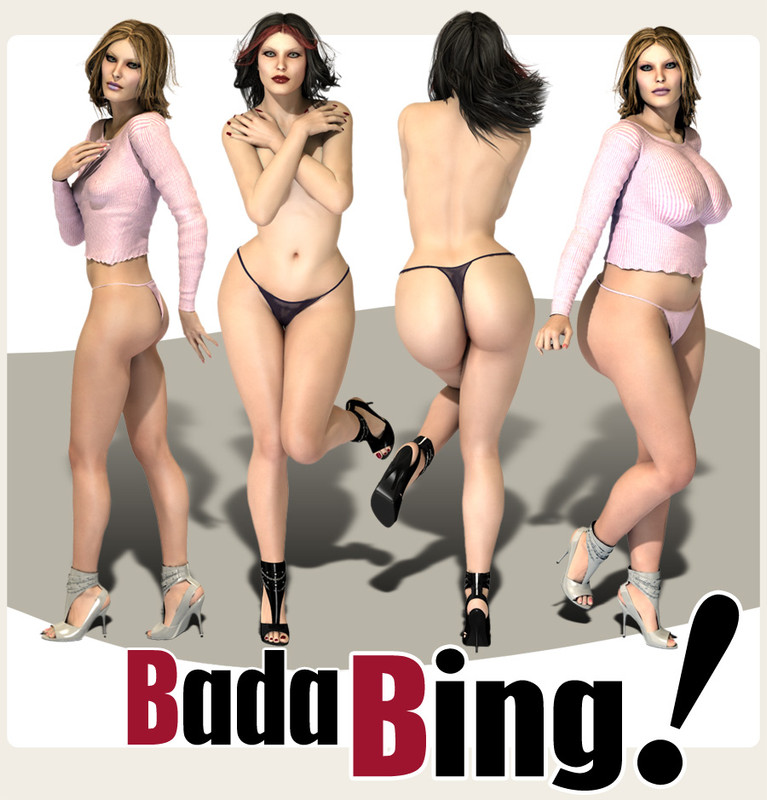 BadaBING! – V4 Lower Body Shaping System
Beautiful women come in all shapes and sizes. It is after all what makes us uniquely who we are. How wonderful it is to portray a woman's physical attributes in a natural, healthy, and sexy way. Celebrate the feminine form by taking any shape you want!
Take control like never before with the all new Controls – BadaBing Body Shaping System. Morph targets are great, but what happens when the clothing you are using on your figure doesn't contain the same set – or the set is not as good as the morphs on the body? Magnets are great but who really has the time to set that up? With '! Controls', you get the best of both worlds! The power of a set of magnets, the ease of use in simple dial spinning, and deformations that effect the clothing the figure is wearing as well!
The basis of the system is the "Remote Control" a little unit LOADED with dials for controlling the 38 Invisible Magnets that are at the core of the system. No fiddling with magnets, worrying about making them symmetrical, its just that easy. Simply load the Control Prop, Magnetize your clothing, and apply a style pose. That is all it takes!
Feeling a little bolder? Take matters into your own hands and create your own styles by using the library of dials in the control prop.
What's Included and Features
BadaBING! – V4 Lower Body Shaping System (.PP2 and .OBJ)
Clothing Fixer Butt
Clothing Fixer Chest
Magnet Set
20 Diverse Style Preset Poses
https://www.daz3d.com/badabing-v4-lower-body-shaping-system

Required Product:Victoria 4.2