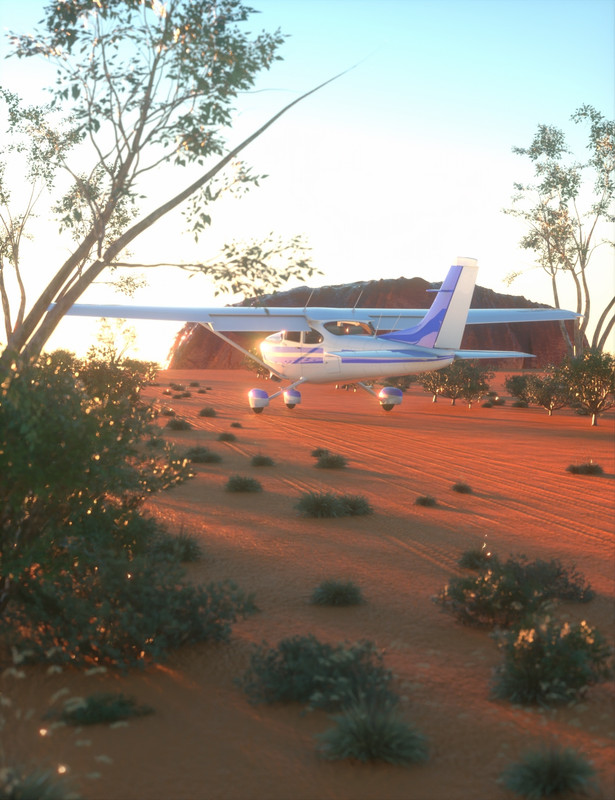 Australian Outback Environment
[GDrive & MEGA]
Explore the Australian Outback in this exciting do-it-yourself kit. You can build many different Australian Outback environments, from desert roads to lush river banks.
The kit comes with 4 tree props, 3 bush props, 4 rock props, 2 water bank props, a grass prop, and a big land prop.
The environment kit also comes with a fully animatable Cessna aircraft for flying around the environments you build.
So what are you waiting for? Grab yours today and start exploring the great Australian Outback.
What's Included and Features
Australian Outback Environment: (.DUF)
Props:
4 Tree Props
3 Bush Props
4 Rock Props
2 Water Bank Props
1 Grass Prop
1 Big Land Prop
Fully Animatable Cessna Aircraft For Flying Around The Environments You Build
Materials:
AOE Acaia Tree1
AOE Acaia Tree2
AOE Australia Bush 1
AOE Australia Bush 2
AOE Australia Bush Bunch
AOE Australian Rock 1
AOE Australian Rock 2
AOE Australian Rock 3
AOE Australian Rock 4
AOE Eucalyptus Tree 1
AOE Eucalyptus Tree 2
AOE Land BIG 2
AOE Land BIG 3
AOE Land BIG Road
AOE Land BIG Water
AOE Land BIG
AOE Left Bank Dirt
AOE Left Bank
AOE Right Bank Dirt
AOE Right Bank
AOE Spinifex Grass
AOE Acaia Tree1
AOE Acaia Tree2
AOE Australia Bush 1
AOE Australia Bush 2
AOE Australia Bush Bunch
AOE Australian Rock 1
AOE Australian Rock 2
AOE Australian Rock 3
AOE Australian Rock 4
AOE Eucalyptus Tree 1
AOE Eucalyptus Tree 2
AOE Land BIG 2
AOE Land BIG 3
AOE Land BIG Road
AOE Land BIG Water
AOE Land BIG
AOE Left Bank Dirt
AOE Left Bank
AOE Right Bank Dirt
AOE Right Bank
AOE Spinifex Grass
Textures Include:
69 Texture Maps (4096 x 4096 to 8192 x 8192)