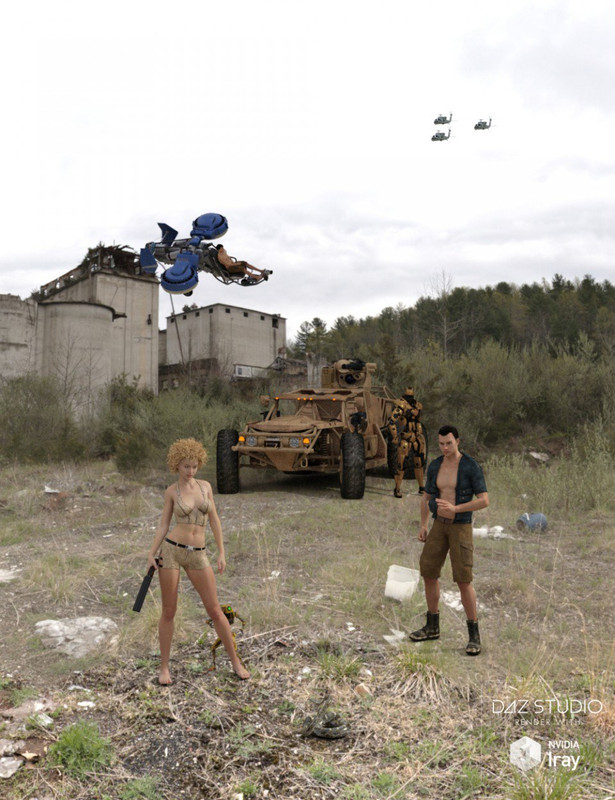 Apocalyptic Plant Outdoors Set1
The Apocalyptic Plant HDR dome series is created to not be a bright sunny walk in the park, but instead, a future world where you rarely see the sun. This is a series of 6 HDR domes based off of 3 panoramic photo shoots, for use with Iray or any other physically biased render engine. Also included with this set are environment IBL images, which are much smaller files containing only the light data, but are not meant to use as a background.
What is this? HDR images are 32bit images instead of the 8bit images which can be fully seen on a computer screen. 32bit images can go beyond the ability of your display. For instance, they can hold the light of the sun and at the same time details in the deepest shadows. Iray makes use of this additional information to provide natural lighting effects to your scenes. If there is a sun in the sky or a bright spot, shadows will be cast from that area. At the same time, you get a full backdrop and as these are panoramic domes, you can rotate your camera in any direction and have a scene.
One of the positives of the use of HDRs in Iray, is they render very quickly and you don't have a lot of lights to set up. That said, yes, you can add additional lighting, photometric lights or mesh emitters to any scene using a HDR dome. This dome can also be used to light a backdrop image or light an interior scene, if there are openings or glass (as can be seen in the additional pop up images).
This set includes 6 render presets and 6 scenes which include various preset cameras.
https://www.daz3d.com/apocalyptic-plant-outdoors-set-1-iray-hdris