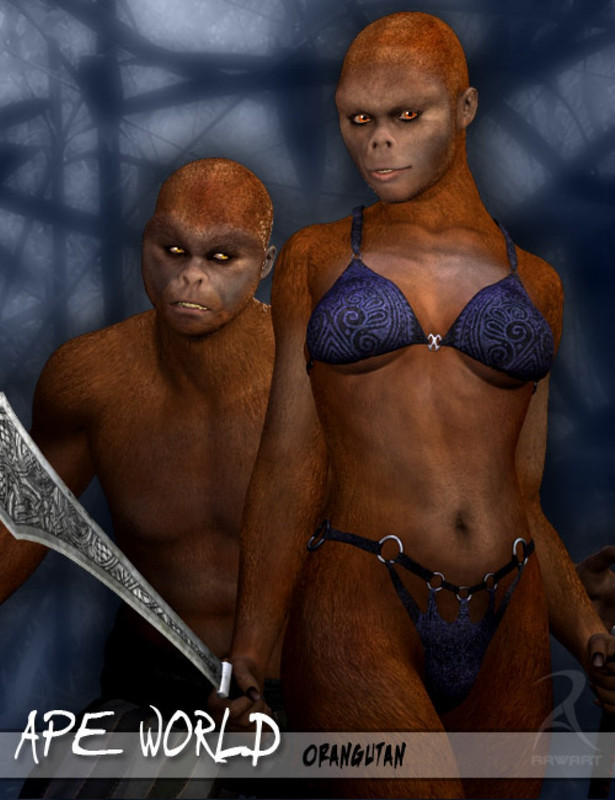 Ape World Orangutan [exe]
Details
In a future world or in realms more diverse than our own, mankind is not the only primate to evolve. Bring these simian siblings to life in worlds of your creation with these character sets for M4 and V4.
What's Included and Features
Features
Ape World Orangutan
1 Custom Head INJ/REM for M4
1 Body INJ/REM for M4
1 Custom Head INJ/REM for V4
1 Body INJ/REM for V4
Skin Options
1 Male Orangutan Skin Texture
1 Male Orangutan Gen Texture
1 Female Orangutan Skin texture
4 Eye Color Options
Red
Blue
Yellow
Orange
Textures Include
13 Texture/Bump/Specular/Transparency Maps (1000×1000)
18 Texture/Displacement/Specular/Transparency Maps (4000×4000)
Poser 6+ MAT Poses (.PZ2)
Poser 6+ Material Presets (.MC6)
DAZ Studio Material Presets (.DS)
Notes
DAZ Studio Users: There is no longer a separate DAZ Studio installer for these Presets. DAZ Studio will automatically apply the DAZ Studio version of the Material Presets, giving you the correct DAZ Studio look to your Ape World Orangutan.
https://daz3d.com/catalog/product/view/id/8926


You need to be a member to see this