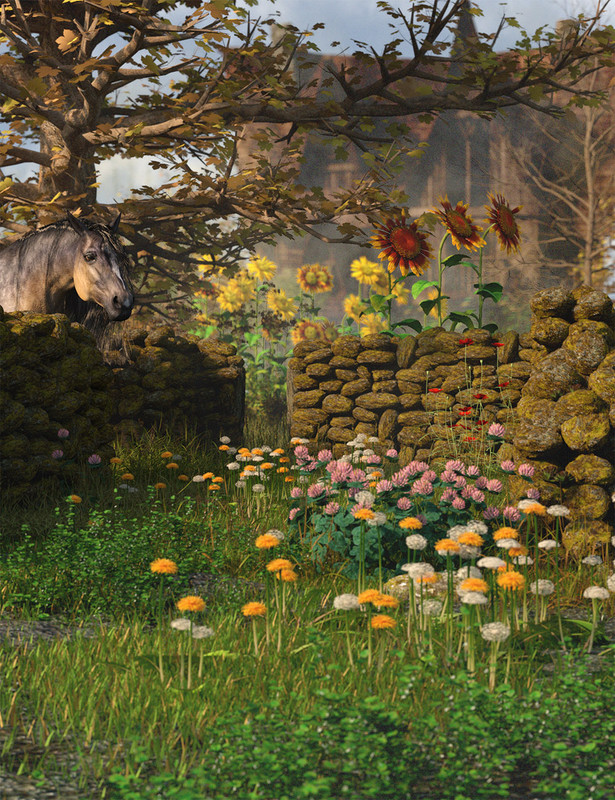 Ancient Stones – Modular Dry Stone Rustic Walls
Ancient Stones – Modular Dry Stone Rustic Walls is a great modular (where appropriate you can stack them or line them up as required) rustic walling set. In many parts of Europe, dry stone walls are used around houses, gardens, and field boundaries and can play a large part in how a landscape looks.
This is a wonderful set of mid-range to distant props with a reasonably low polygon density, making it useful for instancing and creating large complex walls. The materials and UV have been designed to allow the rocks from different sections to overlap, allowing you to play with the configuration of your structure while the shaders and materials will, to some extent, help blend the 2 items together. Because it's specifically designed to use tiled shader and material presets and subdivision and displacement for finer details, it takes just a few clicks to apply shader maps to it. No messing around with texture templates here; just click, scale, and go.
With this great system of 40 modules in 8 styles and 5 materials, you have all you need to build an attractive rustic wall, which can be planted on or in too (the models are a double set of hand-placed pebbles with a filler section in the middle and 3 different material zones in the stones to add variety).
Add to this the set of 5 full material presets that enable you to swap out materials in a click of a mouse, and the 6 included shader presets (which can be added to any one of the material zones to help blend or change up the look of the model) and the 12 Displacement and subdivision settings (which will work on all of the materials and shaders — just make sure you have the material zones you wish to change selected in the shader tab!) and the 11 included texture tiling settings, you have a vast selection of mossy walls! Using the 4-layer Uber PBR mdl shader that ships with Daz Studio, layers of moss and lichen are added on top of the base rock textures, meaning that you can also easily mix and match with my Not So Ancient Stones – Rough Concrete Shaders for Iray and Ancient Stones – Rock'n'Roll and Moss Shaders that also use the 4-Layer shader system. Of course, you can use any other rock or stone shader you wish should you want to blend your walls seamlessly into other landscape features or buildings!
Additional advice:
As always with shader application, you must remember to select the surface you wish to use the shader on in the shader tab. Then, apply the shader and render in Iray preview (the shaders will only show you what they look like in an Iray preview or final render — the viewport look of the layered UBER PBR shader does not reflect the texture tiling for the shader). Once loaded and previewed, you can adjust the scale of the shader on the object depending on how the object's UV maps are aligned and stretched. To this end, I have included a whole bunch of ratio-based shader tiling pre-sets that can be applied immediately, or you can make your own adjustments to the X and Y tiling values in the shader tab. Also included is an Ultra High Displacement setting that also makes the Subdivision value extremely high. This can be very handy when using an object that does not have a high poly count or much surface detail of its own. Also included are low medium and high displacement options, as well as different subdivision levels that can be turned off if your object is in the far distance to save on resources. All in all, these options make these shaders extremely powerful (and these utility options should also work on the mossy bricks, mossy rock, and concrete bundles too!).
Ancient Stones – Modular Dry Stone Rustic Walls is the perfect bundle to build walls with a large dollop of versatility thrown in for good measure!
https://www.daz3d.com/ancient-stones--modular-dry-stone-rustic-walls