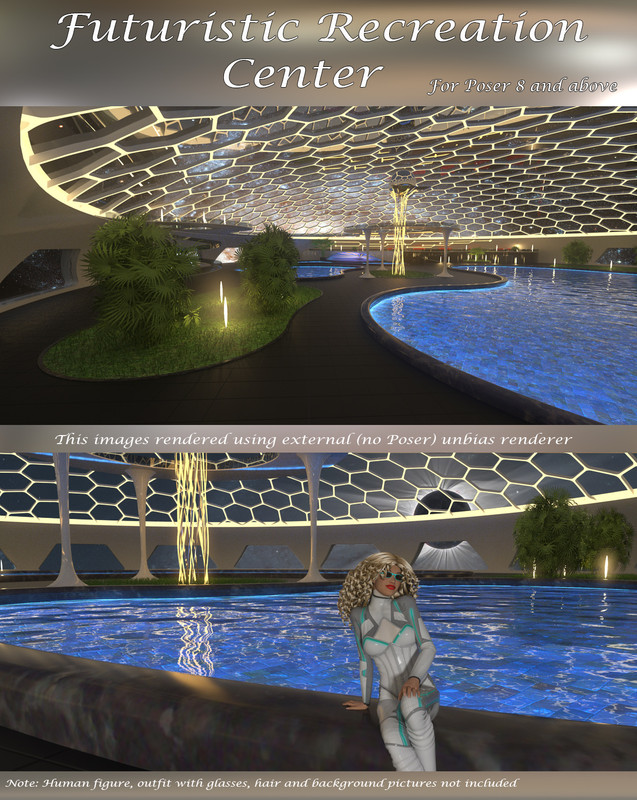 AJ Futuristic Recreation Center*
This package contains 2 figures (base figure and plants figure), 2 light sets and 2 camera sets. The base figure is a large area consisting of many places where you can place your characters. This futuristic building can be used to make images in different styles (contemporary scenes, scenes in sci-fi style and other). You can use it as a modern building or as a part of a large starship. It all depends of your imagination. Base figure consists of many parts which can be disabled if needed. Figure also contains 2 doors (4 door sides). You can open and close this door sides using corresponding sliders. Also figure contains furniture such as futuristic chairs and couches. in a separate room you will find chairs and tables for arranging your cafe.
This package will be an excellent basis for your pictures and I hope that you will be able to realize your ideas and fantasies using this product and I sincerely wish you this.
Use Image Based Lighting ( IBL ) and increase Shadow Blur Radius, Shadow Samples and Shadow min Bias in light Properties tab of Poser application for other non-IBL lights. Combine this parameters to achieve best rendering results.
Before using this product in your scenes, please, disable from Poser menu: Display-Ground Shadows and Display-Guides-Ground Plane.
Also disable the "Smooth polygons" checkbox before render in Render Settings!
Product includes geometry (*.obj) files in Geometries folder.
Use Poser 8 or above version of Poser program. Because the product contains a lot of reflective surfaces that make render slower, I recommend using the latest versions of Poser application for quick render.
*Poser only
https://www.renderosity.com/mod/bcs/index.php?ViewProduct=109170

You need to be a member to see this