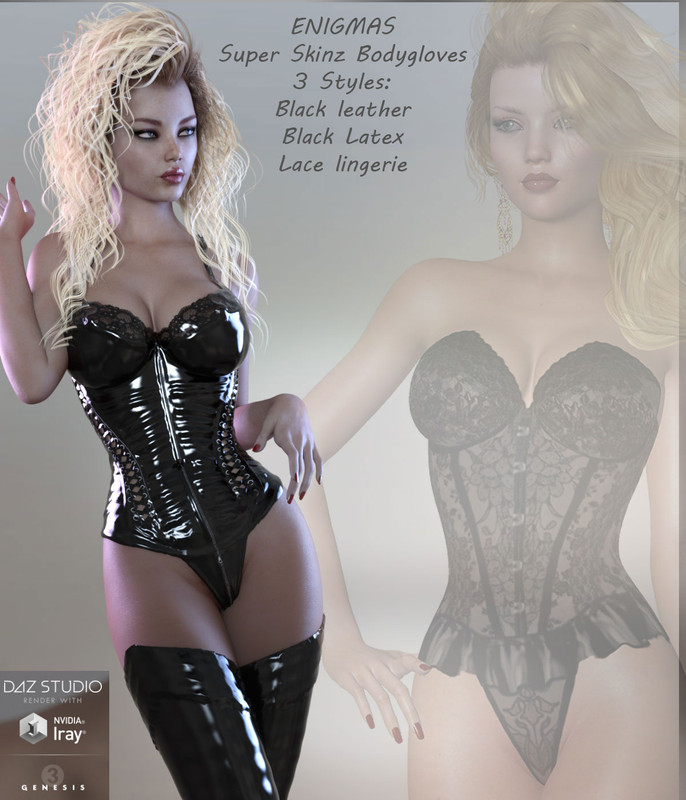 A#1 G3F Enigmas Bodyglove Set
A#1 G3F Enigmas Bodyglove Set is a set of high quality, detailed bodygloves for
· Genesis 3 Female.
· Beautifully crafted to give detailed and rich renders.
· This set will fit any morphed character with no pokethrough.
· Textures are of the highest quality with materials and displacement maps that
· will make your renders stand out.
· They come in both IRAY and 3Delight.
· If you want quality renders this is the set for you.
· This set is for Daz Studio only.
· Included files:
· 3 Styles:
· Black leather
· Black Latex
· Lace lingerie
· Leather and latex:
· 1 topless-bottomless corset cincher
· 2-Full cup corsets
· 2 Demi cup corsets
· 2 1/2 cup corsets
· 2 style leggins
· Lace lingerie:
· 4 colors,black,white,red,purple
· Styles:
· Full cup
· Demi cup
· Topless
· Topless/bottomless
· These bodygloves are applied to a geometry shell and will follow G3F with no
pokethrough.
· The textures render quickly and because of the detailed displacement maps will
give a high level of detail.
· To increase the detail simply increase the displacement strength.
· To create geometry shell
· · Simply go to "Create" on your top toolbar
· · Select your base character (G3F)
· · Scroll to "Create Geometry Shell"
· · Select parent to selected figure
· · Set your mesh offset to .10 or higher
· · Now you have an exact duplicate of your character which will follow all of
your morphs.
· ·The shell is slightly offset so when you render you will get shadows and displacement from the bodygloves
· This give a very high quality, realistic render with no poke through and quick render times.
· · Add more geometry shells to add more layers
· · Simple and easy to use on any size character.