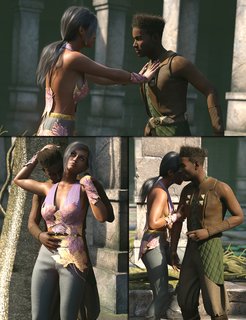 Forsaken Temple Promises Poses for Genesis 8
Details
The Forsaken Temple – abandoned, forgotten, but once it was a place of promise. Your Genesis 8/8.1 characters filter in – from the long ago past, from the stolen moments of today, or from the renaissance of the future – to bring life to the stories you tell with your renders. From romance, to ritual, from intrigue to ennui, the 10 two-person vignettes in Forsaken Temple Promise Poses for Genesis 8 provide the quiet moments for you to use in rendering the tales from your imagination. Created with visual storytelling in mind, these hand-crafted 3D vignette poses have been specially curated to cover a wide variety of situations and events to give you the power to create evocative art work.
Included in this set is also a bonus selection of 41 "go-to location" position poses for the Forsaken Temple environment that will allow you to use any pose of your choice in different locations throughout this elegant and timeless environment.
As always, FeralFey poses are fact checked for gravity, balance, and realism.
https://www.daz3d.com/forsaken-temple-promises-poses-for-genesis-8-


File Hosting: Mega.nz