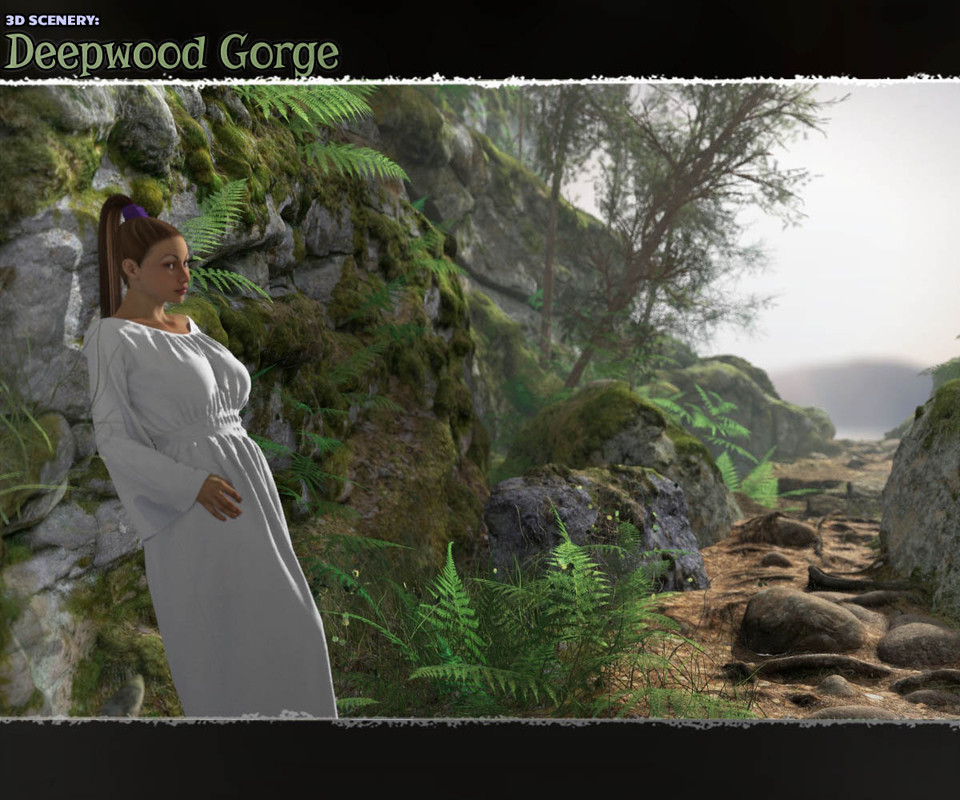 3D Scenery: Deepwood Gorge
Take your runtime straight into photo-realism with the Deepwood Gorge!
Deepwood Gorge is a nature set with over 40 different pieces! (Some are variations) It contains forest cliffs, rocks, trails, wood and numerous different plants. Each cliff and rock come with versions that
are basic, and with plants and even trees included on them, which are great construction pieces for very quickly building your own nature scenes with only a few mouse clicks, rotating, moving and scaling.
A preload scene is included as well, as an example of what you can do with the items.. Many of the props come with morps that enable to you "push down" the edges into the ground and the cliffs, push "back" if
you want to make layers of cliffs.. This is due to their photo based nature, they are not always entirely even (nature almost never is!) Everything is in high resolution, with 4K textures and sharp (but
optimized) model resolution.
Of course, all these items can easily be used in any other scene, as all these trees, rocks, cliffs, plants and presets can be loaded and used independently.
Plants are included from an ever growing plant library used to build this product! In this product, some new variations of birch trees, pines and firs are included, as well as groups of ferns with grass and
other forest plants. Also full groups of trees are included, so you can create forest backdrops fast.
The following is included:
4 base forest cliffs
4 forest cliffs with plants
4 forest cliffs with plants and trees
4 forest rocks
4 forest rocks with plants
2 forest rocks with trees
1 landscape foundation for the preload
1 flat landscape for custom scenes
5 trail pieces
1 root stump
4 forest plant groups
2 forest tree groups
3 bent summer birches
6 firs
4 pines
The scene is made for Poser, but loads fine in Daz Studio! A few tweaks may be needed, such as scaling the tiling terrain texture and applying Iray shaders. (Uber shader works fine, but you may need to set
the displacements manually) (Or other material settings) Everything else works as they should, including the morphs. More info included in the readme
https://www.renderosity.com/mod/bcs/index.php?ViewProduct=118675

You need to be a member to see this