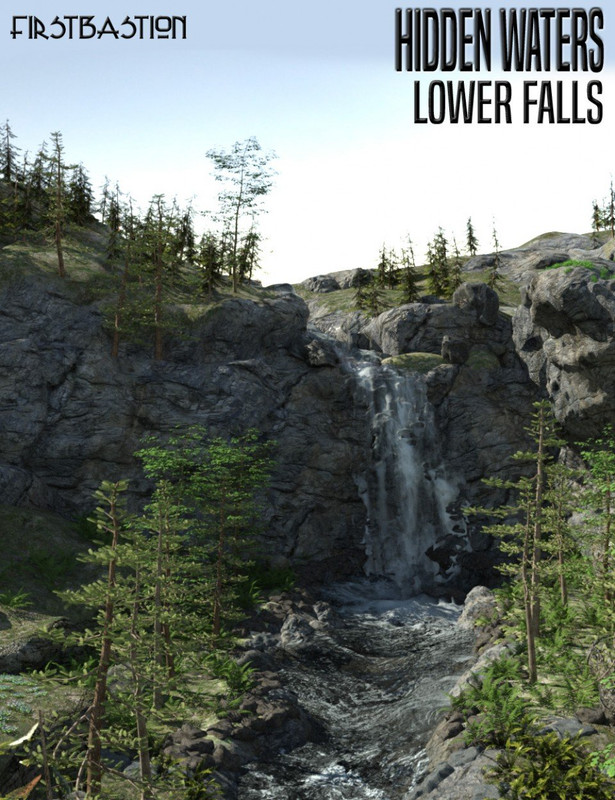 1stB Hidden Waters Lower Falls
1stBastion's Hidden Waters Lower Falls is a 3D exterior environment for DAZ Studio that emulates the mid northern rugged terrain found on most continents and in nature, wind swept areas where trees,grass and ferns cling to rock surfaces and struggle to survive. The scene has optimized material and light settings for both the 3Delight and Iray render engines.
The torrent of water has cut a deep gorge into the rocky landscape and offers an interesting craggy backdrop for your modern day or fantasy renders. Following the classic plunge waterfall the torrent of water continues beyond the churning water pool along a raging river cut into the rock. There is a small path that move towards a crack in the cliff wall. There is a small cave hidden behind the pouring water. The scene is perfect for hiking through or climbing through, this wilderness offers a transition and compliment for other 1stBastion sets. Designed for your modern day or historical type renders. Set up to add thousands of additional polygons instances at render time, it allows moving around the setup scene. There are over 25 cameras also included to help you find that angle that will help you tell your story.
The environment set includes scene loads for both Iray and 3Delight renders. The 3Delight version includes a physical skydome and lightset as well as placed cameras to get you rendering images quickly. Thousands of instances of vegetation help give density and variety to the scene. Short grass, ferns, rocks, stones, boulders, spruce trees, deciduous trees and water surface and falling water are all props or instances and are included with the scene.
The water surface is a separate prop and can be raised or lowered independently of the terrain.
All promo images are either DAZ Studio Iray renders or noted 3Delight renders.
Please note, this scene extensively uses the Daz Studio Instancing system which may require special plugins to work in other applications. This is a big intensive scene with plenty of detail Designed for modern computers.
For Daz Studio 4.6+ for 3DL and 4.10+ for iray and beyond, includes separate 3Delight and Iray optimized subset scenes.
https://www.daz3d.com/1stb-hidden-waters-lower-falls


You need to be a member to see this