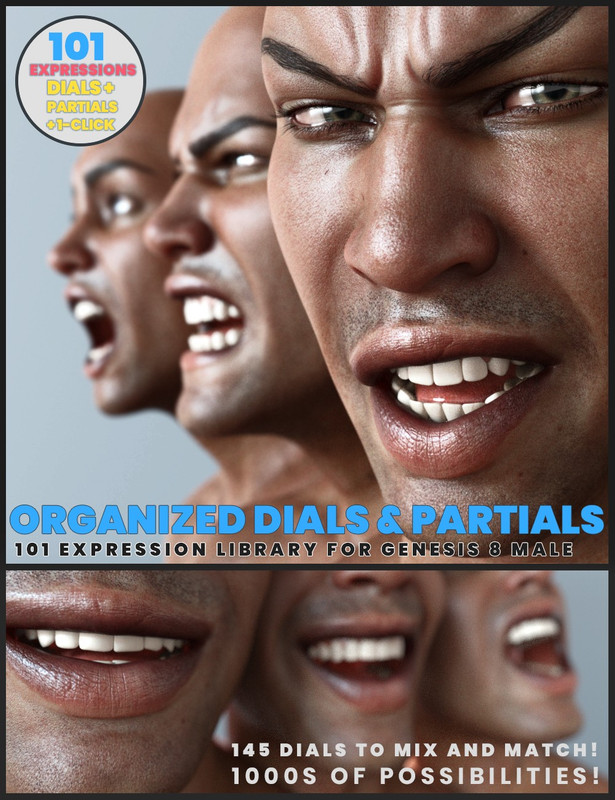 101 Expression Library with Dials for the Genesis 8 Male
101 Expression Library with Dials for Genesis 8 Male is THE expression collection you'll come back to again and again for your artwork! It's COMPLETELY organized, color coded, separated into folders, and has everything you need to get your Genesis 8 Male's facial expression looking PERFECT for you!
Each expression comes with a one click option AND a dial option. You can use dials with the partial mouth and eye expressions as well.
Ten different categories of expression are included, each has a WIDE variety to choose from and mix and match!
Categories include:
Actions: This includes everyday activities like chewing, sipping drink, kissing, biting lip, singing, winking, and more!
Anger: The full range of anger is included here, from grumpy to fuming, to straight-out malevolent!
Bold: This is all about sass and confidence. Put some extra oomph into your figure with these beauties.
Fear: From just a touch of concern to "Max Terror" you'll find exactly the level and type of fearful expression here
Happy: A collection of calm beautiful happy faces to give your figure that warmth radiating from within!
Hero: Every stage of the adventure is covered here! From kindness and knowing to war cries and wounded – you've got it all!
Pain: Physical AND Emotional pains are covered here, from headaches to heartaches!
Portrait Pro: These are amazing for all of your portraits, designed to complement the whole range of male characters in your library. For off the cuff candid looks to professional and studly, these expressions will make your portraits POP!
Sad: From the more everyday "bummed" to weeping and sorrowful, this category will have your figure feeling the blues!
Seductive: Confident, flirtatious, and fun – this section brings out those feminine wiles! Innocent, loving, and flirtatious, it's all here!
Mouth Partials: Sometimes you really need to get the mouth perfect for your images, so you also have a collection of 30 mouth-only partial expressions available as one click options or dials. Smiles, frowns, lip biting, open mouth yelling, and natural positions are included.
A set of eye partials are included with 15 one click presets as well as dials for all 15. These affect not just eyeball position but upper lower lid and some brow movement so you get a really comprehensive eye movement for your figure.
https://www.daz3d.com/catalog/product/view/id/71651

You need to be a member to see this