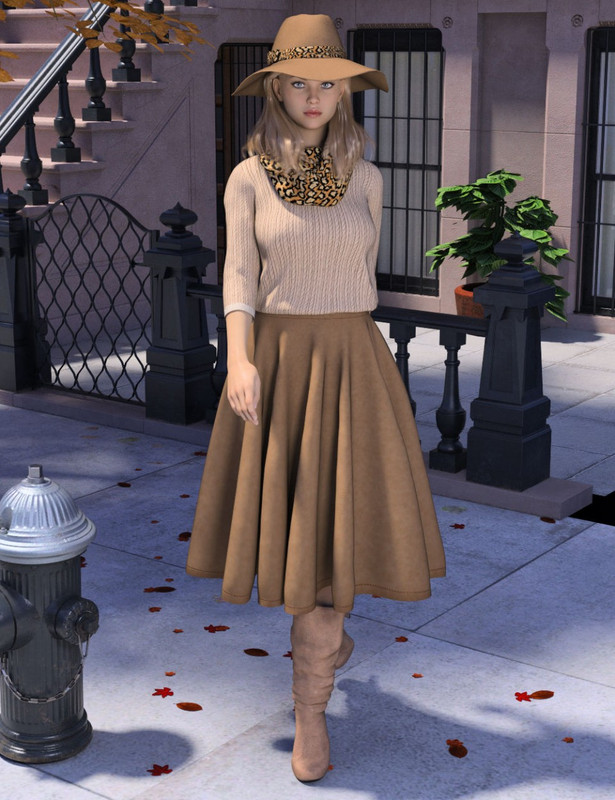 WD dForce Sophia Outfit for Genesis 8 Female(s)
Details
WD dForce Sofia Outfit consists of 5 parts: Boots, Hat, Muffler, Skirt, and Sweater. The muffler, skirt, and sweater are dForce, but they can be used as conforming with gentle poses.
Each have 5 textures, with additional preset files for each texture set.
What's Included and Features
WD dForce Sophia Outfit for Genesis 8 Female(s) (.DUF)
Outfit Preload
Sophia Boots
Sophia Hat
Expand All
Hat Down
Hat Left
Hat Right
Hat Tip Back
Hat Tip Forward
Hat Tip Left
Hat Tip Right
Hat Up
Lengthen Crown
Wider Crown
dForce Sophia Muffler (Scarf)
Chest Out
Neck Back Less
dForce Sophia Skirt
Back Out
Front Out
Left Out
Right Out
Presimulation: Skirt Fuller
dForce Sophia Sweater
Feet Pose
Zero Individual Toes
Simulation Settings
Supported Shapes
Aiko 8
Charlotte 8
Mei Lin 8
Monique 8
Olympia 8
Stephanie 8
Teen Josie 8
Victoria 8
Body Size
Bodybuilder Details
Bodybuilder Size
Breasts Cleavage
Breasts Diameter
Breasts Gone
Breasts Heavy
Breasts Implants
Breasts Natural
Breasts Size
Breasts Small
Emaciated
Fitness Size
Pear Figure
Thighs Size
Thin
Voluptuous
Some shapes may be Supported by Auto-follow
5 Iray Material Options
Textures Include
47 Texture, Bump, and Displacement Maps (600 x 600 to 3000 x 3000)
Texture Templates available through the Product Library
DAZ Studio Iray Material Presets
Notes
This product includes:
1 DSON Core Installer
http://www.daz3d.com/catalog/product/view/id/64625


You need to be a member to see this