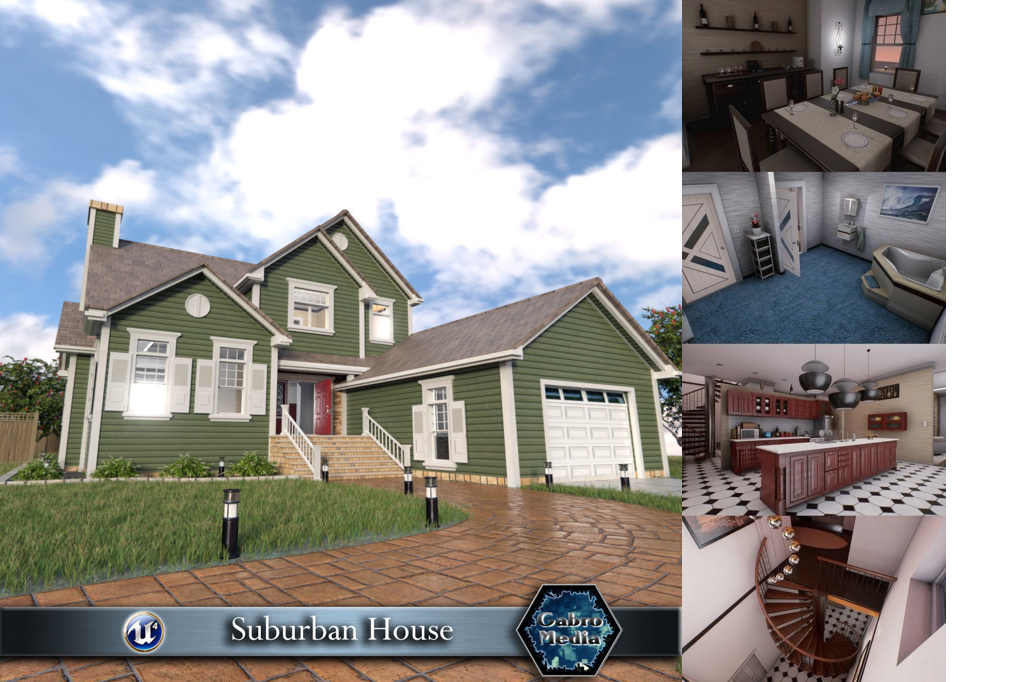 Suburban House Low-poly 3D model (Unreal)
This package here is ONLY available for Unreal Engine 4.15 (or newer)! Contents are in .UASSET format!
Suburban House is a completely furnished home asset that contains a detailed house model with separated submeshes (doors, windows, shutters) and 218 high-quality, interactive props. Every interactive model has properly separated and pivoted submeshes, ready to be animated (knobs, levers, switches, cabinet doors, drawers).
Features:
High-res PBR textures
Carefully unwrapped UV1 for artifact-free lightmap support
Fully baked ready to use daytime demo map included (+ one overview map of all assets)
Properly positioned pivots for interactivity
Every mesh is organized and Blueprinted for convenient access.
Textures:
128×128 to 4096×4096 resolution depending on object size (consistent resolution throughout the scene)
Basecolor (_BC), Metallic, Roughness, Ambient Occlusion (_MTRAO in RGB packed, non-sRGB), Emission (_E), Opacity (_O in basecolor's alpha channel).
Materials:
All materials have assigned PBR texture inputs, applicable ones have scalar parameters/material instances provided for customization.
Technical Details: Physically-Based Rendering: Yes Texture Size: from 128*128 to 4096*4096 Collision: Yes, automatically generated Triangle Count: ~280k for the whole demo scene (~40k for the empty house) LODs: Yes Number of Meshes: 489 Number of Materials and Material Instances: 81 master materials and 8 material instances Number of Textures: 232(includes Basecolor + Opacity(where applicable), Normal map, Metallic+Roughness+AO, Emission map (where applicable)) Intended Platform: Desktop PC, VR Platforms Tested: Windows PC
Note: The house mesh is NOT modular, but is split to parts for optimized lightmap resolution and top-down camera support.
The poly count indicated here (250k) refers to the entire demo scene with all props, fully assembled. The package is optimized for desktops, however, according to customer feedback, it runs great on PC VR.
I'd like to emphasize again that the this package here is only for Unreal Engine 4 developers! Unpack the ZIP file and copy the folder into your Unreal project's /content folder, and you're ready to go!
—————————————————————————————————————————
Want to see more of my posts? Just CLICK HERE!
https://www.cgtrader.com/3d-models/exterior/house/suburban-house-a13063b2-b22b-4618-9a5d-6f0bef5b8fb3


File Hosting: Other File Hosting