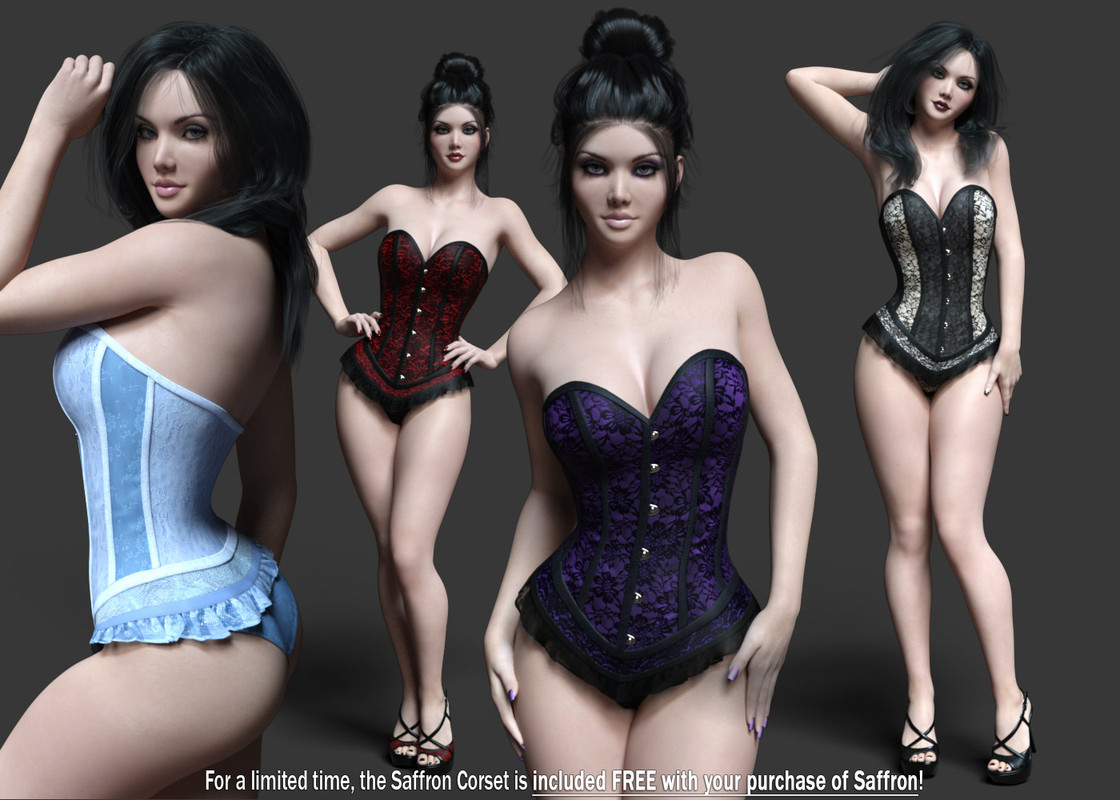 Saffron for Genesis 3 and Corset Bundle
Saffron is a new pale-skinned beauty for the Genesis 3 Female. She's a smouldering, sexy beauty with a porcelain complexion that is so very lovely for normal, everyday conditions, and also for that inner gothic girl who wants to come out and play.
The Saffron Corset is an hourglass style corset for the Genesis 3 Female, with a matching panty. All popular Genesis 3 morphs have been smoothed for a perfect fit, and the corset and panty both include extra movement and adjustment morphs in case you need them.
Since a corset of this style will lift the breasts, create cleavage, and cinch the waist, the Saffron Corset will load with several morphs in order to create these real-world effects. I have also included a preset and a REM preset for your convenience if you should need to apply or remove these morphs.
A preset has also been included to hide the ruffle skirt of the corset.
Included in the Saffron Corset pack:
– Saffron Corset (.duf)
– Saffron Panty (.duf)
– 13 Material Presets (Iray)
– 13 Material Presets (3Delight)
– 2 Push Up Morphs (Apply and Remove)
1 Head INJ/REM
1 Body INJ/REM
1 Nails Long Round INJ
1 Nails Long Square INJ
1 Nails 50/50 INJ
1 Nails REM
https://www.renderosity.com/rr/mod/bcs/index.php?ViewProduct=116643


You need to be a member to see this