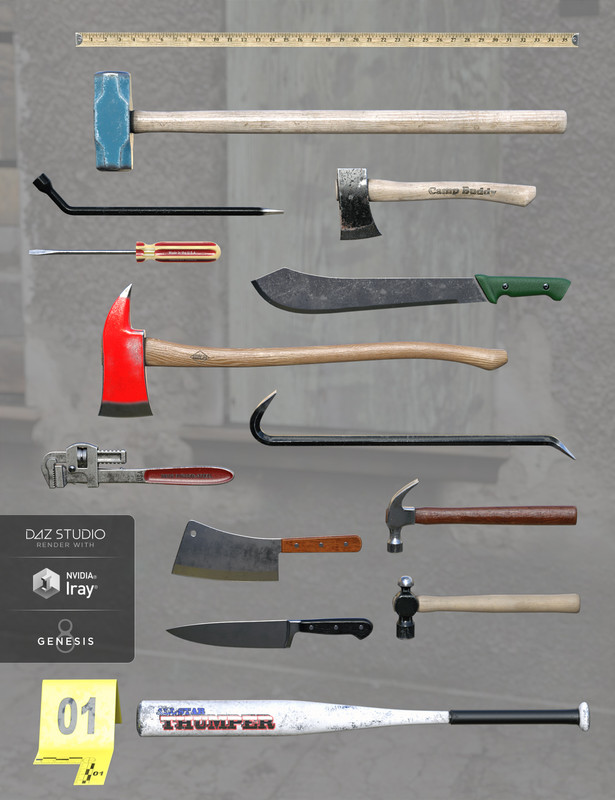 *NEW LINK! Everyday Weapons (For G8!)
Quick the Zombies are Coming… grab a weapon…
Everyday Weapons is a diverse set of tools and household utensils meticulously modeled from their real-world counterparts. They can be used in any scene – around a campsite, in a garage, in the kitchen, at a construction site, or found at a crime scene.
Included in this set of props is an aluminum baseball bat, a ball-peen hammer, a claw hammer, a meat cleaver, a crowbar, a fire ax, a hand ax, a kitchen knife, a monkey wrench, a screwdriver, a sledgehammer, a tire iron, and a yardstick. Except for the yardstick and the CSI marker, all come with two textures-clean and bloody.
The bright, yellow CSI (Crime Scene Investigation) marker comes with 20 material presets, numbered from 1 to 10 in either inches or centimeter formats, and all tools come with wearable presets for Genesis 8 male and female characters.
Get Everyday Weapons for your fight, defense, or apocalypse scene!
Note: All materials are provided in Iray format.