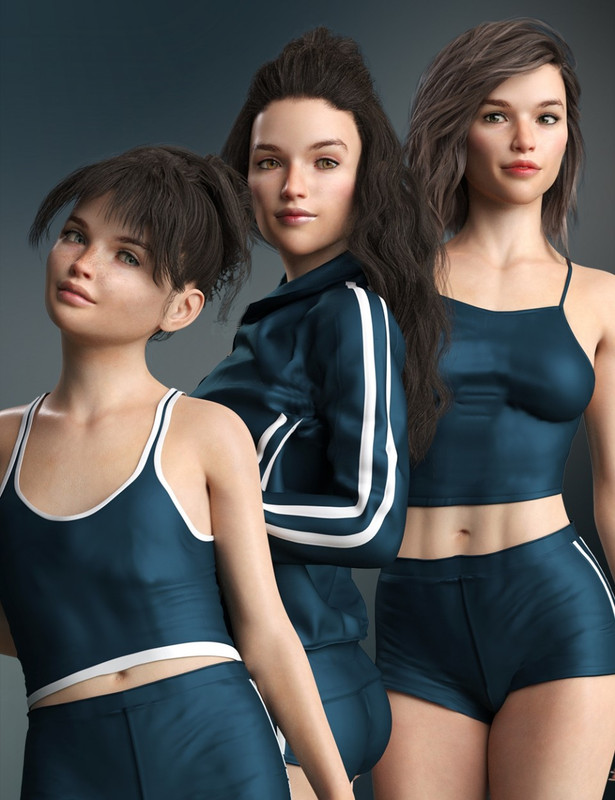 LY Glitter Sweet Girls for Growing Up for Genesis 8 Female
Details
The Glitter Sweet Girls are a trio of custom morphs with a touch of family resemblance. With the use of ZevO's Growing Up for Genesis 8 Females, you get three ages that are fun to play with. Each young morph is unique but with Lyoness DNA so they look like sisters. The were thoughtfully designed specifically for each specific age group. Combined with a unique custom skin, these sisters have lots of possibilities.
Joy is a spunky 13 year old that has special freckles for fun. Makayla is 15 and a half years old and can't wait for driver's ed! Kaidence has just turned 18 and has already filled out her college applications.
The Glitter Sweet Girls have custom painted makeups- 6 eyeshadows (with and without liner) and Nail polishes, 8 lip glosses and eye colors and 3 Freckle types. These are soft and youthful looking to reflect the younger age.
I understand the need for customization, so included are presets for an alternative torso with no anatomical details for risque clothing, Normals off/on for closeup and distance, and 3 intensity settings for the skin tone. Always included are custom morphed square nails and long eyelash morphs. Nothing so so important as the Eyebrows, so you get 2 ways to remove eyebrows from the Glitter Sweet Girls, an LIE no Eyebrow setting which removes the brows and leaves the makeup, and a No Eyebrow Face option for when you want everything from scratch! And a Bunch of utility presets helps you customize everything.
What's Included and Features
LY Glitter Sweet Girls HD for Genesis 8 Female: (.DUF)
LY Glitter Sweet Girls HD Character Preset
03 Character Presets
Glitter Sweet Girls Shaping Presets:
03 Full Body Apply/Remove
LY Long Lashes Apply/Remove
LY Square Nails Apply/Remove
Navel Apply/Remove
Nipples Apply/Remove
Material Presets:
Custom Base Skin
03 Shader Customizations
Alt Torso Apply/REM
3Delight Utility
No Brow Face
No Brow LIE Preset
Normals Apply/Remove
06 Makeups + 06 Makeup with Eyeliner + 01 Nekkid Face
08 Lip Gloss + 01 Nekkid Lips + Glossy Utility Apply/Remove
06 Nails + 01 Nekkid + Low Shine Preset
03 Freckles + 7 Utility Presets
02 Acne Presets
08 Eye Colors
Eyelash:
Black
Brown
Eye Lash Texture
Textures Include:
112 Texture, Normal, Bump and Opacity Maps (512 x 512 to 4096 x 4096)
Daz Studio Iray Material Presets (.DUF)
Daz Studio 3Delight Material Preset (.DUF)
https://www.daz3d.com/ly-glitter-sweet-girls-for-growing-up-for-genesis-8-female-s

Required Product:Growing Up for Genesis 8 Female
You need to be a member to see this