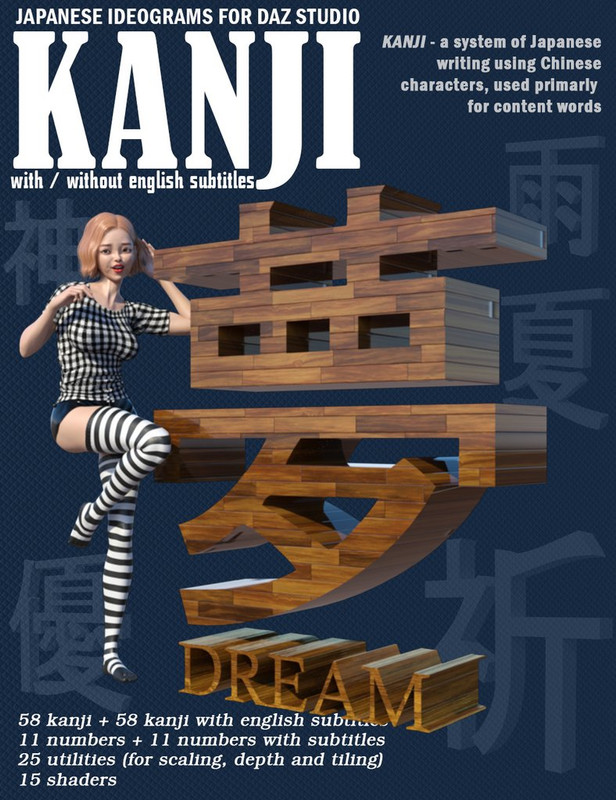 KANJI – Japanese Ideograms for DAZ Studio
KANJI – a system of Japanese writing using Chinese characters, used primarily for content words.
This set of Kanji ideograms is the perfect complement to any Japanese theme composition. You may want cats or dogs, water of fire, rain or sun up in the sky, you may be happy, angry or sad.. anyhow, you can now fill your scenes with the necessary ideograms, flavoring your scene with an Asian scent.
The Kanji package contains a lot of characters with and without English translation, so you can use the right ones depending on your will and your audience. There are 58 ideograms on each folder for you to choose, so you can transmit a lot of things, from "angry cat" to "think smart" or "good god". The characters are separate props, so you can move them independently, rotate, translate, or scale them on any of XYZ axes.
The Kanji set contains 11 numbers from 0 to 10 with and without subtitles, for you to mark the hotel rooms, the address of your home or just to do some simple math.
You also have utilities for adding depth to your characters and to re-scale them, so you can use your kanji on the walls of the temple or as decorative signs on your desktop.
There are also 15 shaders in the package with the tilling presets. With the Kanji package, you have all the ideograms you need to properly decorate any scene with eastern-Asian scent. You have "courage" and "strength" for your samurai, daimyo, or shogun. You have "beauty", "dream", "flower", "heaven" and "love" for touching souls… but also "think" and "smart" for some modern environments… and many more.
The Kanji characters will be an excellent addition to any Japanese scene you can dream of, blending and fitting naturally. So release your imagination and take a journey to Tokyo with this collection of ideograms!
************************
Please find my other posts HERE
************************
https://www.daz3d.com/kanji--japanese-ideograms-for-daz-studio