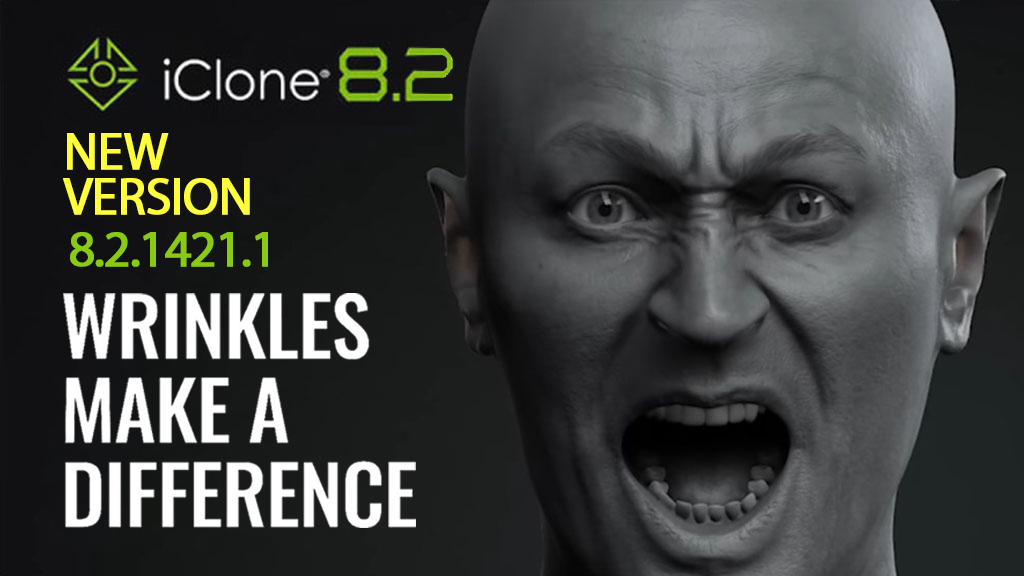 iClone 8.2.1421.1
Reallusion's latest release of iClone 8.2 and Character Creator 4.2 represents a significant breakthrough for 3D character artists everywhere. With a focus on providing a comprehensive solution, this release introduces an advanced Look-At Mechanism that lets your digital actors express realistic awareness of their surroundings in real-time simulations.
But that's not all. The new Dynamic Wrinkle System takes character animation to new heights, injecting photo-realistic facial features and expressions into your CC characters. This system breathes life into lip-syncs and emotive performances, adding a level of detail that will set your characters apart.
iClone 8.2 is more than just a visual upgrade; it takes software performance to the next level with Progressive Texture Loading. Animators can now begin editing animations immediately, without having to wait for all the heavy textures and materials to load. This innovative feature not only accelerates the LiveLink pipeline between iClone and Unreal or Omniverse but also sets the stage for concurrent GPU rendering, delivering faster, smoother results than ever before.
As if that weren't enough, the Auto Setup plugin for Unreal, Blender, and Unity can now import and utilize realistic wrinkle animations from iClone, giving your characters an unprecedented level of detail and realism.
Whether you're working on a big-budget project or just starting out, iClone 8.2 provides a powerful suite of tools that will take your animations to the next level. With cutting-edge features like progressive texture loading and Auto Setup for wrinkle animations, you'll be able to work faster and more efficiently than ever before.
https://www.reallusion.com/iclone/update.html


File Hosting: Mega.nz