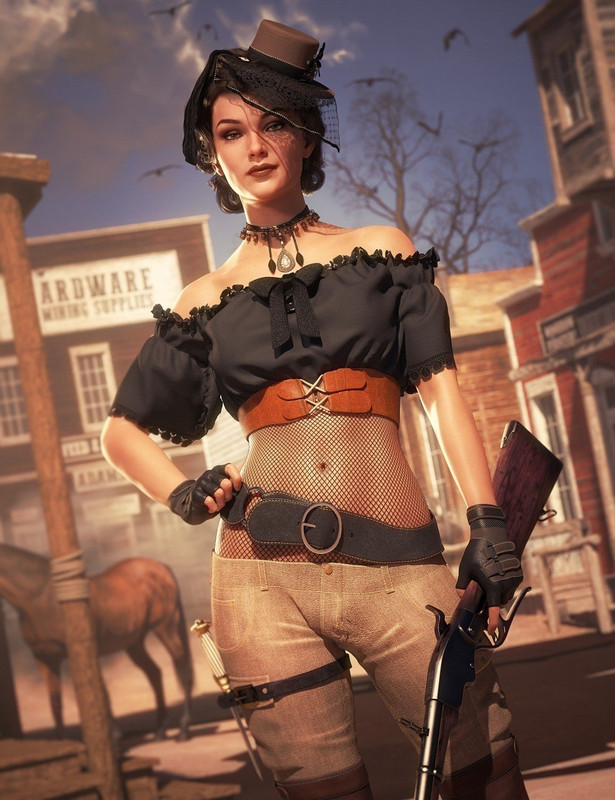 Honni 8
Details
Honni was born in a one-horse town, but didn't stay there long. She has been everything from a ranch hand to a saloon girl. She even got a taste of the big city life back East, but there were too many fancy seances and Eastern European gentlemen with pointy teeth for her taste.
Missin' the simple life, she returned to country living in the West, but now keeps both buckshot and silver pellets near her and her shotgun, just in case.
This good-natured cowgirl works hard, whether on that dang fence that keeps falling down, or in the saloon where her no-nonsense attitude keeps everyone in line, and she comes with 6 Makeups and 4 Eye Colors so you can tailor her to your up-and-coming town.
Honni 8 can't wait for your Wild West, country, cowgirl, and alien-wrangling scenes!
Key advancements with the Genesis 8-based Honni 8 include:
Backward Compatibility (Read More)
Ultimate Content Compatibility (Read More)
Improved Expression Capabilities (Read More)
Updated Eye Technology (Read More)
Enhanced Finger/Toenails (Read More)
Muscle contraction added (Read More)
Default Pose Change: (Read More)
More Realistic Bending: (Read More)
Improved shoulder, collarbone and abdomen bends for better movement and enhanced realism.
Better Shoe Fit: (Read More)
Reworked heel and simplified toe bending to improve movement with a variety of shoe types.
Easy Shape Migration: (Read More)
Skin Material Advancements: (Read More)
For additional savings, check out Honni 8 Starter Bundle and Honni 8 Pro Bundle.
What is Genesis 8? Click here to find out more.
Honni 8 measurements courtesy of Measure Metrics for Daz Studio:
Height: 5′ 10″ (177.8 cm)
Bust Circumference: 35.7″ (90.8 cm)
Waist Circumference: 26.6″ (67.6 cm)
Low Hip Circumference: 37.9″ (96.4 cm)
This product requires installation of either Genesis 8 Starter Essentials through Daz Connect or both Genesis 8 FEMALE Starter Essentials and Genesis 8 FEMALE PowerPose Templates through Daz Install Manager. Product Library, DIM or Daz Connect.
What's Included and Features
Honni 8 (.DUF)
Honni 8 Character Preset
Honni 8 Full Body Shape
Honni 8 Head Shape
Honni 8 Materials:
Utilizing the Improved Iray Uber Shader
Honni 8 All
04 Eye Color Options
01 Eyelash Material Preset
06 Make-up Options with Eyebrows
06 Make-up Options without Eyebrows
Normal Map On/Off Presets
Anatomical Elements Material Preset
3 Subsurface Level Presets (3Delight)
3 Translucency Level Presets (Iray)
Textures Include:
49 Texture, Bump, Displacement, Specular, Reflection, Sub-Surface Scatter, Transparency and Normal Maps (2048 x 2048 to 4096 x 4096)
Daz Studio 3Delight Material Presets (.DUF)
Daz Studio Iray Material Presets (.DUF)
Notes
This product includes:
1 DSON Core Installer
http://www.daz3d.com/catalog/product/view/id/71267


You need to be a member to see this