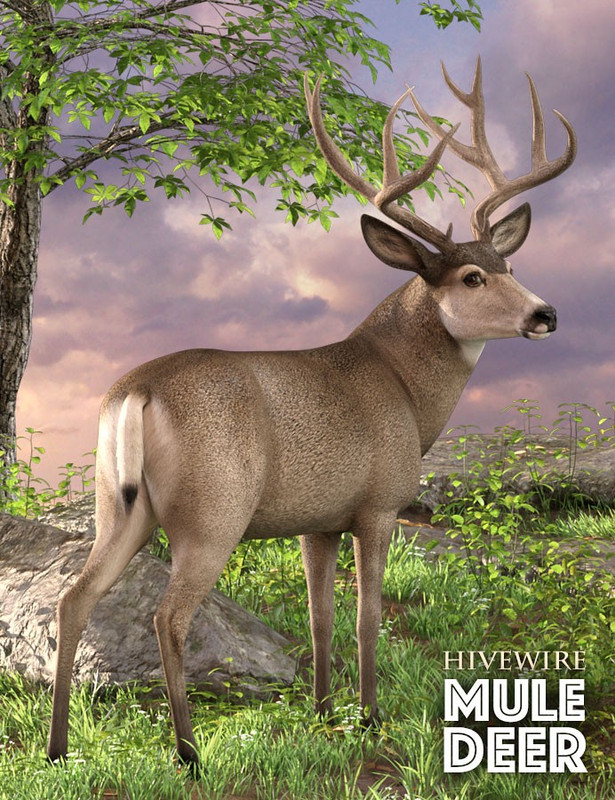 HiveWire Mule Deer Buck
Mule Deer weigh between 130 and 280 pounds and range in size from 3 to 3 1/2 feet tall at the shoulder and 4 1/2 to 7 feet long, with the female deer being smaller than the male.
Adapted to arid, rocky environments, Mule Deer thrive in habitats that have a combination of plant growth. Due to a small rumen in relation to their body size Mule Deer are selective in their feeding, grazing on the most nutritious plants and parts of plants, as well as browsing on leaves and twigs of trees and woody shrubs.
The Mule Deer Buck is optimized for use in DAZ Studio 4.10 and Poser 11. Poser 10/Poser Pro 2014 compatibility is provided via additional INJ and REM files for bone orientation. See notes in the ReadMe file for instructions
The Mule Deer Buck comes with a beautiful set of materials including bodies with and without snow, with presets for Iray & 3Delight for DAZ Studio, and for Superfly (requires Poser 11+) and Firefly for Poser.
Included in the product are a Mule Deer Buck Morph, Poser 10/Pro 2014 bone orientation options, both 2 point and 5 Point Antlers (with morphs and materials for both plain and velvet options), Mule Deer Foot Claws, and Mule Deer Tail.
Additionally, there are load-alls for both Poser and DAZ Studio which load the Horse, 5 Point Antlers, Mule Deer Dew Claws, and Mule Deer Tail, with the Mule Deer Buck morph and textures applied for all figures and props.
NOTE: All of the Mule Deer Buck's morphs are located in the body group so that you don't have to hunt and peck around trying to find the master control dials for any body part morph.
https://hivewire3d.com/shop/new-releases/hivewire-mule-deer-buck.html

Required Product:HiveWire Horse
You need to be a member to see this