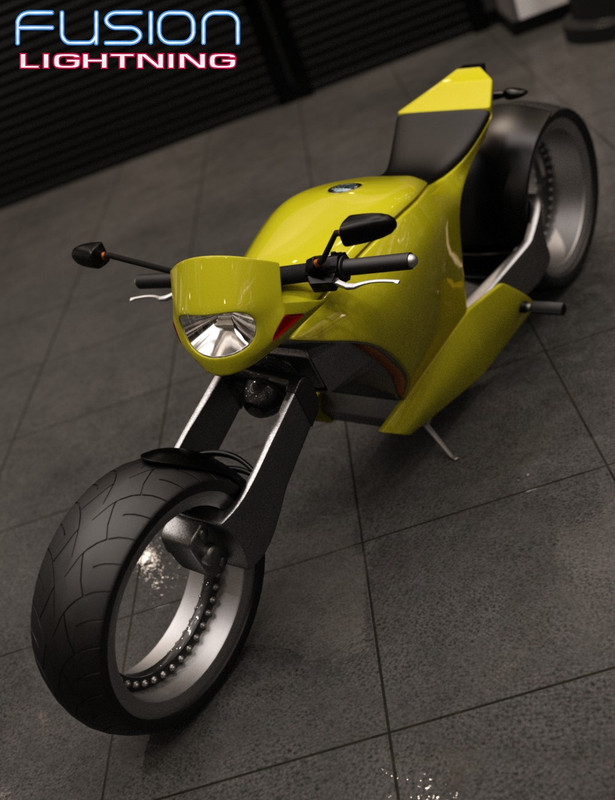 Fusion Lightning
Fusion Lightning Details
The Fusion Lightning is designed to be a futuristic sport bike style that uses an alternate fuel source where all the components are contained within, so nothing is hanging out.
The bike does not use textures and relies completely on shaders, Iray and 3Delight and weighs in at less then 90,000 polygons so you can populate your scene with more then just a few.
There are 8 material presets for both Iray and 3Delight and the Iray version also has meshlights included for that added bit of realism. The headlight preset for Iray not only turns on the light but also controls the switch on the left handlebar. There are 17 moving parts, plus the display can show different gears.
The set also includes 3 poses for Genesis 2 Male and Female and Genesis 3 Male and Female.
What's Included and Features
Fusion Lightning: (.DUF)
Fusion Lightning Iray and 3Delight Presets
Material Options:
Black
Blue
Green
Orange
Purple
Red
Teal
Yellow
Iray Only Material Options:
Core-Coil-Off
Core-Coil-On
Headlight-Off
Headlight-On
Tail-Light-Off
Tail-Light-On
Turn-Signal-Left-Off
Turn-Signal-Left-On
Turn-Signal-Right-Off
Turn-Signal-Right-On
Shader Options:
Black
Blue
Green
Orange
Purple
Red
Teal
Yellow
Poses:
Genesis 2 and 3 Male and Female:
Riding Bike
Bike Sliding plus mirror
Sitting on Bike
Daz Studio Iray Material Presets (.DUF)
Daz Studio 3Delight Material Presets (.DUF)
Daz Studio Iray Shader Presets (.DUF)
Daz Studio 3Delight Shader Presets (.DUF)
Notes
1 DSON Core Installer
http://www.daz3d.com/fusion-lightning


You need to be a member to see this