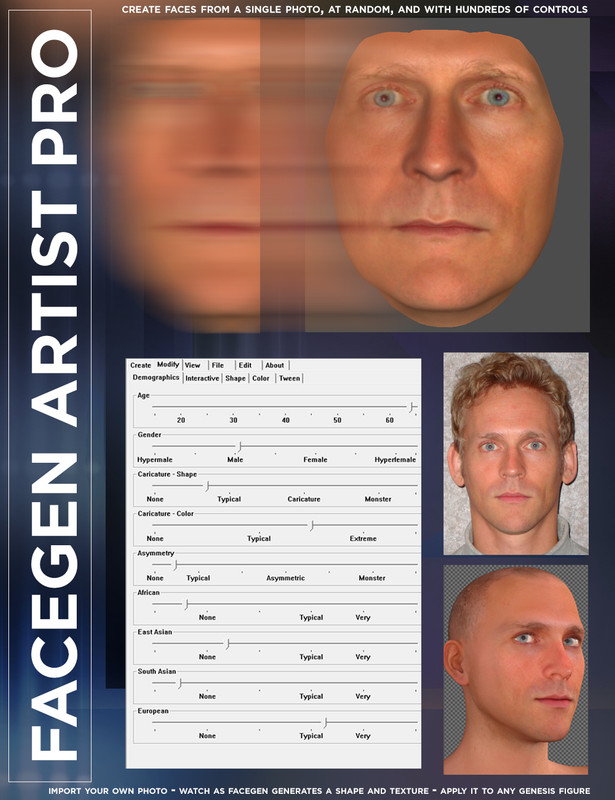 FaceGen Artist Pro 3.10 - (64bit)
Import your own photo or multiple for even more accuracy to FaceGen. Then watch as FaceGen generates a shape and texture that you can easily apply right onto a Genesis, Genesis 2, Genesis 3, or Genesis 8 and 8.1 figure.
FaceGen even analyzes your pictures to create an overall skin texture that can be applied to your entire figure to avoid transitions.
If you want to make your figure look like your pictures, that's all you need.
FaceGen lets you take things even further. You can adjust skin tone and feature shape gradually as you dial up and down various ethnicity adjustments to your photo's face. Adjust its level of masculinity or femininity. Adjust age, color, shape, and even tween between multiple photos to combine more than one person's structure and skin tones.
The ultimate in control, FaceGen even lets you modify the face with a pinch and pull style experience so you can mold and fine-tune features to meet your needs.
Faces can be applied to Daz Genesis, Genesis 2 Male and Female, Genesis 3 Male and Female, and Genesis 8 and 8.1 Male and Female meshes.