This Post Is Dead - Please Repost It
EDM for D.Va 2 and Tokki for Genesis 8 Female
EDM for D.Va 2 and Tokki for Genesis 8 Female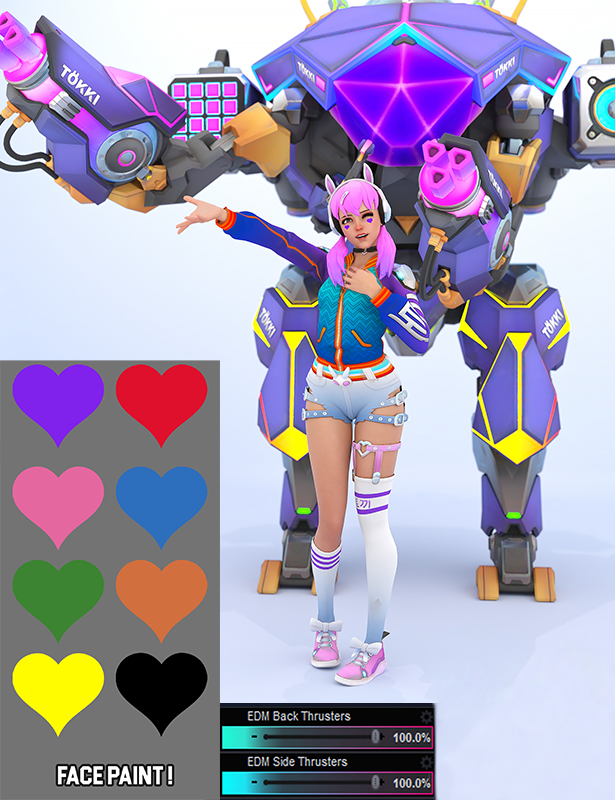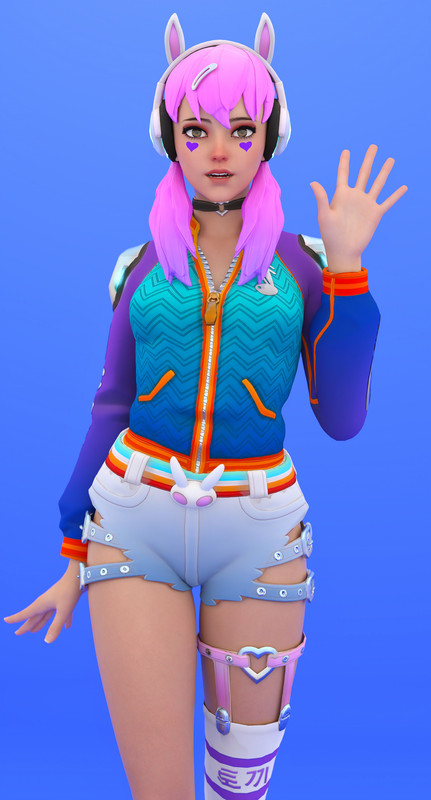 —————————————————————————————————————————
Details
New mech, new me!
EDM Addon for D.Va 2 (D.Va 2 is REQUIRED for this product)
This product contain:
Character:
- 2 Preset Characters of EMD D.Va for Genesis 8 and 8.1 Female
- 10 different colors for the heart shaped face paint.
- EDM Hair with rigged side ponytails.
(Characters and morphs are D.Va 2)
Items:
- EDM Outfit (Jacket + Shorts)
- EDM Legs (Shoes + Socks)
- EDM Headphones (The headphones are designed to fit the hair, will not look good without this)
- EDM Heart shaped Choker
- EDM Gun
EDM TOKKI:
Just like D.Va 2 Tokki, it comes fully rigged, with some small changes due the different forms but overall it's very similar
- Option to activate thrusters on parameters, this time with a larger effect.
- 12 different psychedelic emission lights as shown in the video.
- Solid color light, white as default and you can pick any color you want on surface tab.
- Optional Emission off included.
Everything comes with 4K high quality textures to enhance your renders up to 12!
AGAIN! THIS PRODUCT REQUIRES D.Va 2 to work properly, and remember to update it to the last version!
Install directory:
People/Genesis 8 Female/Dumitas/D.Va 2/EDM
__________________
The file comes ready to install using Install Manager to make it easy to uninstall or change location, you can also install it manually using free tools such as 7-Zip.
Any errors or even suggestion my DMs are always open and I will answer or fix after reading it, thank you!!
Requires: dva 2 and tokki for genesis 8 female
—————————————————————————————————————————
Thanks for stopping by.
Want to see more of my posts?
Just CLICK HERE!
—————————————————————————————————————————
https://www.renderhub.com/dumitas/edm-for-d-va-2-and-tokki-for-genesis-8-female