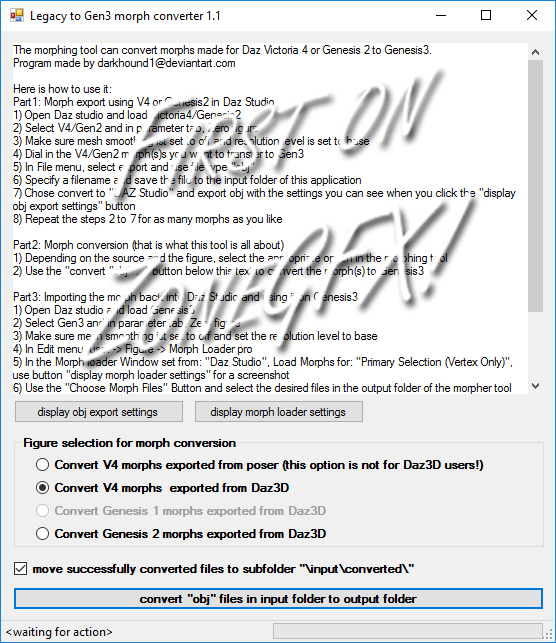 Darkhound's Legacy to Gen3 Morph Convertor
Darkhound's Legacy to Gen3 Morph Convertor
Purpose of the morphing tool:
The morphing tool can convert morphs made for Daz Victoria 4 or Genesis 2 to Genesis3 exporting from and importing into Daz Studio.
It supports V4 poser morph export and Daz Studio import for Genesis 3. Genes 2 poser morph export is not supported.
What is included:
The package includes some content for Daz Studio 4.8 and higher. Six base morphs for the Victoria 4 morphs and the Genesis 2 morphs.
There are separate morphs for the head and the body as well now. So you can use e.g. a V4 head morph with Gen2 body morphs on your Genesis 3 female figure.
It has been created with Visual Studio 2010, so you will net .NET Framework 4 to run it. You will need Windows 7 or higher to run it. It will work for 32bit and 64bit windows versions.
It is easy to use and has been thoroughly beta tested.
Edit: The Morph converter has been updated to version 1.1. Morph accuracy from V4 to Genesis3 has been improved. This update should also fix most of the teeth problems.
I advice to use the latest version. The content has also been updated with an improved clone.
Click here to view my other posts.
https://darkhound1.deviantart.com/art/Legacy-to-Gen3-morph-converter-1-1-buy-it-here-589021408


You need to be a member to see this