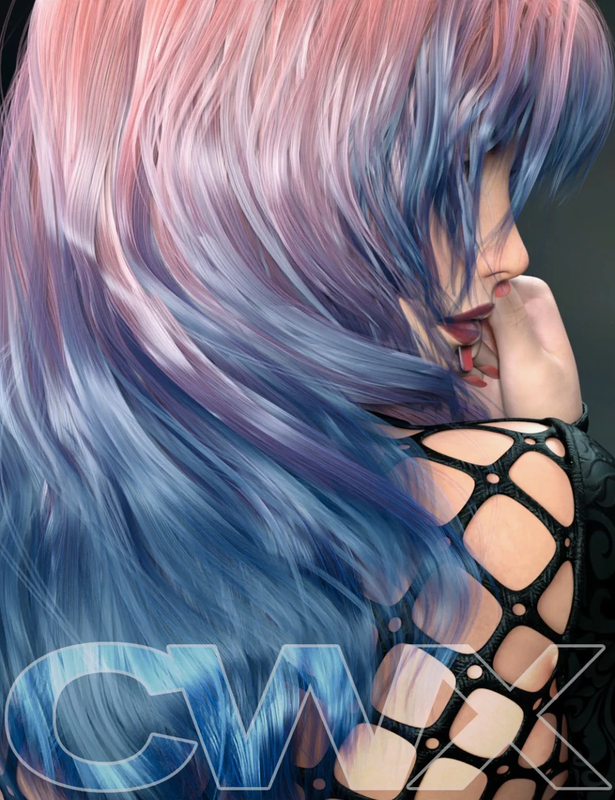 ColorWerks Extreme: Hair Texture Blending for Iray and dForce Hair
ColorWerks Extreme, or CWX for short, is a collection of brand new textures and a custom Iray shader for standard transparency mapped hair, fibermesh hair, and dForce strand based hair in Daz Studio.
The custom shader is sleek and simplified, with buttons and sliders to control the placement of texture blends, the strength of the highlight (shine), and the sharpness of the highlight. This gives you complete control over the appearance of the hair in your scene after textures and masks have been applied without the need to constantly leave the Surface Tab or scroll through an endless list of unused parameters to get that perfect look.
Features of the shader include a button to swap the base texture and the blending texture, as well as a button to assign the selected surface as "scalp" or "not a scalp". Selecting as a scalp processes the selected texture and makes it a color to use with the opacity map of the scalp surface, matching it perfectly to the hair textures.
Colors can be blended over each other either with a mask or without it. There is one built-in mask, as well as 28 additional optional masks. Presets are provided to load masks in, as well as a preset to remove the mask and reset the shader's behind-the-scenes settings.
Another exciting feature of ColorWerks Extreme is the use of layer blending styles similar to those found in image editing software. 28 blending modes are available from a dropdown pst in the Surface Tab itself, meaning you can experiment without leaving the Surface Tab. Modes include Multiply, Soft Light, Screen, Hue, and many others.
170 Texture presets with colors ranging from the natural hair colors all the way to fantasy colors and pastels and neon colors means you can blend a perfect shade to achieve whatever look you want. This also means you can easily combine hairstyles on a single character and have a cohesive texture, making it look like a single new hairstyle. You also have the option to keep the original textures from the hair you choose, as well as drag and drop nearly any texture into the Blend 1 and Blend 2 channels and it will make a new hair texture!
Precisely adjust the strength and sharpness of the hair highlight (shine) with the use of two simple sliders in the Surface Tab itself… no more shine presets or adjusting 10 different parameters a little here and a little there to get the shine you want. Set the strength, then set the roughness, that's it.
With so many texture options, blending modes, and masks available, the possibilities seem literally endless.
Custom Shader
170 Texture Options available
28 Layer Blending Modes
Blending Mask Offset for placement
28 Masks available
Color Swap Button
Scalp Color Button
Highpght Strength Spder
Highpght Roughness Spder
Use Original Textures if wanted
Start from Iray or 3Delight materials
ColorWerks Extreme: Hair Texture Blending for Iray and dForce Hair (.DUF)
Shader Options:
Base Shader:
!!Apply First
Blend Colors:
25 Blondes
20 Brunettes
Fantasy Colors:
5 Aquas
12 Blues
10 Greens
5 Oranges
10 Pinks
8 Reds
12 Purples
5 Yellows
12 Pastels
12 Neons
20 Gingers
20 Grays
Utilities:
Remove Blend 2
Remove Mask
28 Blend Masks
Textures Include:
202 Texture, Bump, Normal and Transparency Maps (1024 x 1024 to 2048 x 2048)
Daz Studio Iray Shader Presets
https://www.daz3d.com/colorwerks-extreme-hair-texture-blending-for-iray-and-dforce-hair


You need to be a member to see this