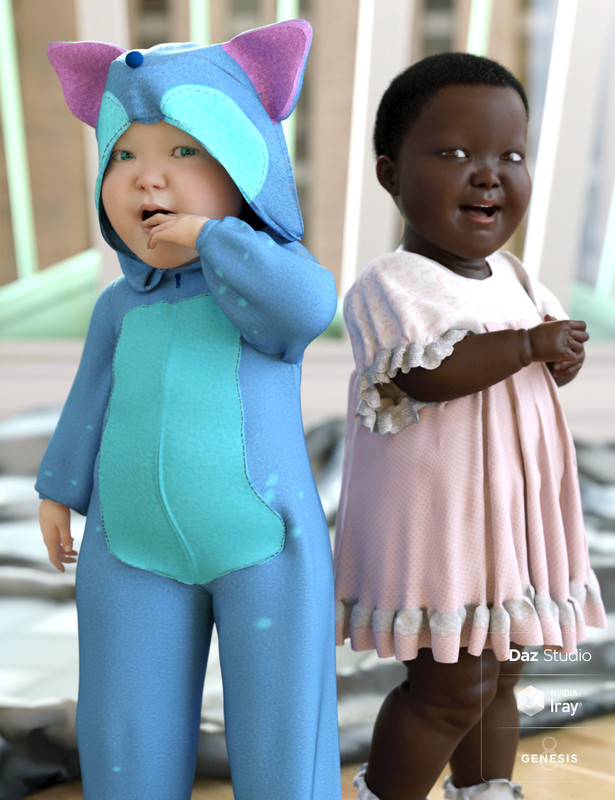 Bundle of Joy Baby Bundle
Meet Caryn and Tobyn, the two latest and adorable bundles of joy to crawl their way into Daz studio. These cute and courageous little adventurers come with a wide range of gorgeous outfits to complete your family scene. You'll smile, you'll laugh, and they'll cry.
[Shared as a Folder – Download parts or all of the bundle] G Drive and MEGA.
Note: All new Daz 3D parents may be subjected to sudden late-night fits of rendering and occasional changing of digital diapers soiled by memory dumps.
What's Included and Features
This Bundle Includes:
Tobyn HD for Genesis 8 Male – https://www.daz3d.com/tobyn-hd-for-genesis-8-male
Caryn HD for Genesis 8 Female – https://www.daz3d.com/caryn-hd-for-genesis-8-female
dForce Cowboy Costume for Genesis 8 Male(s) – https://www.daz3d.com/dforce-cowboy-costume-for-genesis-8-males
dForce Ruffle Princess for Genesis 8 Female(s) – https://www.daz3d.com/dforce-ruffle-princess-for-genesis-8-females
dForce Cozy Knit Outfit for Genesis 8 – https://www.daz3d.com/dforce-cozy-knit-outfit-for-genesis-8
dForce Onesie for Genesis 8 – https://www.daz3d.com/dforce-onesie-for-genesis-8
dForce Fox Kigurama for Genesis 8 – https://www.daz3d.com/dforce-fox-kigurama-for-genesis-8
Baby Accessories for Genesis 8 – https://www.daz3d.com/baby-accessories-for-genesis-8
Family Poses for Caryn and Tobyn with Genesis 8 – https://www.daz3d.com/family-poses-for-caryn-and-tobyn-with-genesis-8
Z Bundles of Joy Poses and Expressions for Caryn and Tobyn – https://www.daz3d.com/z-bundles-of-joy-poses-and-expressions-for-caryn-and-tobyn
Small World Baby Locks Hair for Genesis 3 and 8 – https://www.daz3d.com/small-world-baby-locks-hair-for-genesis-3-and-8