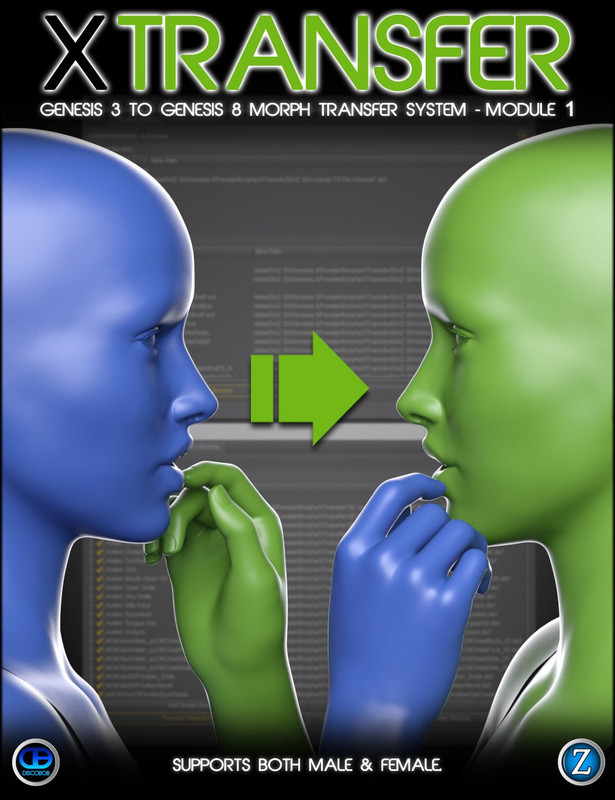 XTransfer – Genesis 3 to Genesis 8 Converter (Updated 5/12/2020)
Details
Introducing XTransfer (Module 1), the fastest, and most accurate Genesis 3 to Genesis 8 Morph Transfer System.
With XTransfer you can transfer all your favorite characters and morphs with ease. Simply favorite what you want to transfer and the script will do the rest. It will also automatically include all hidden corrective morphs that are linked to your selection, ensuring that what you choose will work as good as the source. You can also convert entire morph directories as well.
Note – This product does not transfer HD Morph Detail higher than Base Resolution.
Key features:
Only transfers morphs. All Skins need to be applied from source Material Presets.
Able to transfer Pose related files such as expressions as well.
Preserves Morph Rigging.
Transfers all related Correctives, Jcm's, Mcm's and supporting morphs and maintains links.
Maintains Slider Cards and Colors.
Merchant Resource Agreement:
Morphs transferred via this product may be used for selling provided they are your own.
Morphs may be renamed to remove XT-Prefix on Morphs.
Morph Location may be taken out of XTransfer Folder Structure.
https://www.daz3d.com/xtransfer--genesis-3-to-genesis-8-converter