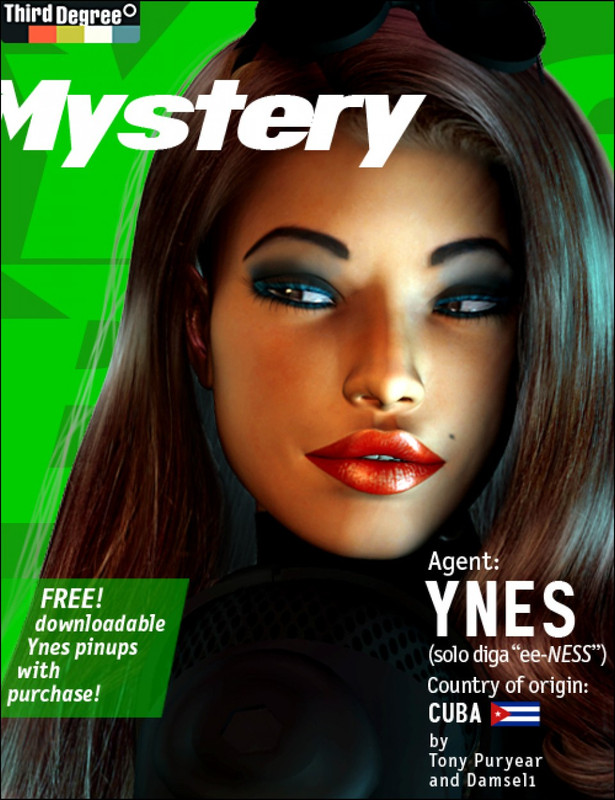 Ynes for V4 by Third Degree Bundle
Ynes for V4 by Third Degree
+ Ynes Bot Armor by Third Degree
+ Ynes Trench Coat by Third Degree (NLA)
+ Ynes Gun La Tormenta by Third Degree (NLA)
Tantos ninjas, tan poco tiempo.*
"There are people who won't take you seriously because of the exterior, the package. Bueno, let them underestimate me. You see how that can work in, say, a sword fight. Even ninjas have eyes. Except the Chinita, Setsuko. Guess she's immune. She's going down anyway. It's funny, growing up in Havana, I never thought I'd see so much of the world, or meet so many interesting people. Or kill so many of them."
Meet Ynes ™, ('ee-NESS') the sexy new premium model with a Cuban beat from Third Degree. Custom shaped by Tony Puryear and Damsel1, creators of the best-selling Ninja Setsuko™, Ynes is perhaps the deadliest of the Third Degree agents. She is definitely the curviest.
Ynes's photo-real textures come with a custom shader option and over 100 subtly detailed MAT combinations and make-ups, including tattoos, six unique nail styles, and a simple lash option. Includes two bonus props: Ynes's gold necklace and her trademark goggles.
Experience 3D to the Third Degree™. Let Ynes put some sabor in your runtime today, and you'll say, as they say in old Havana, "Ahi nama!" This is it!
*Translation: "So many ninjas, so little time."
http://www.daz3d.com/ynes-for-v4-by-third-degree

Required Product:Victoria 4.2 Morphs++
You need to be a member to see this