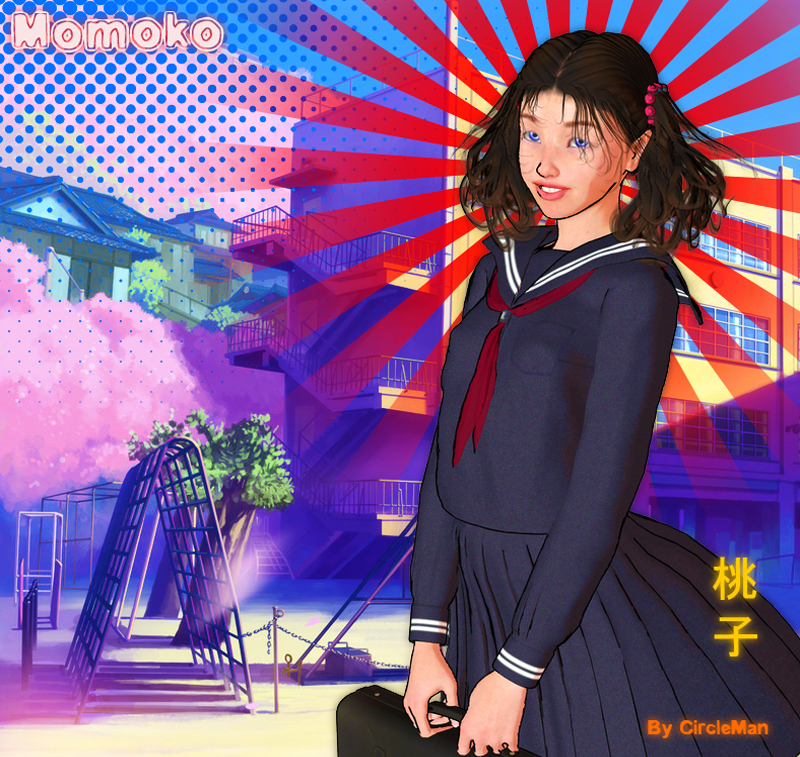 V4 Momoko
V4 Momoko Details
Poser 7+, Poser 8 / Poser Pro 2010+, Daz Studio 3, Daz Studio 4, Poser 9 / Poser Pro 2012 +
Requirements:
Victoria 4.2 BASE,Victoria 4.2 MORPHS++,Aiko 4,STEPHANIE 4,V4 Elite Ethnic Faces,PWTOON PLUGINS,Human Surface Shader,Daz Studio 3.0.1.144 or up (Daz Studio 4 and Poser Not Tested)
V4 Momoko is a package suited for two types rendering works .
First type: render normal.
Second type: Toon render.
How many times have you dreamed to convert the final rendering in a toon?
How many times have you tried with dozens of filters ?
Now your search is ended.
You can simply apply these filters and rendering your work.
The final result is a toon !
With Photoshop you can apply , at last, a little work for the final result ( example file included – only for case study ).
V4 Momoko Pack include:
DZToon Toon Filter for Dark effect
DZToon Toon Filter
Simply Light for toon effect
PSD file for case study
V4_Momoko Character
Momoko Mat Optimized for DZToon Filter
Momoko Mat for Poser
Momoko Mat for Human Shader
Momoko High Quality texture
Click here to view my other posts.
https://www.renderosity.com/mod/bcs/v4-momoko/94333

Required Product:Victoria 4.2 Morphs++
You need to be a member to see this