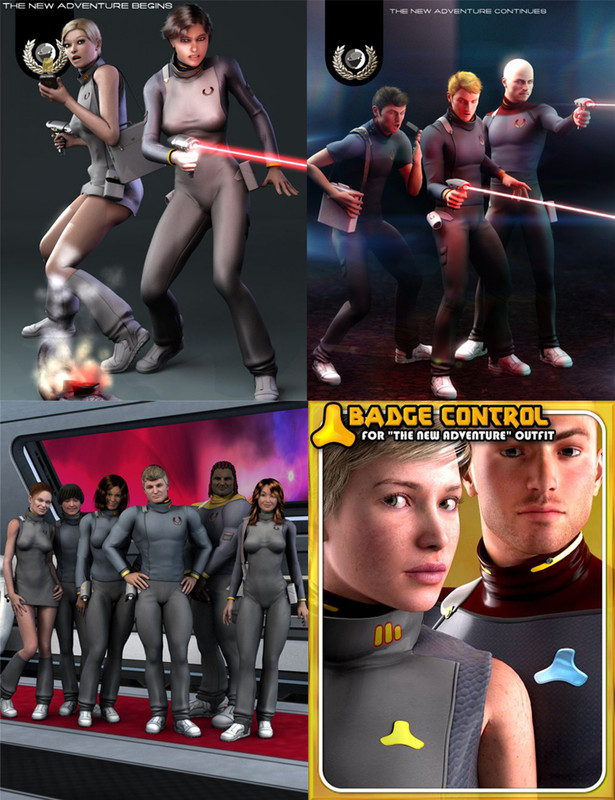 The New Adventure Bundle
Details
Space-time anomaly NOT included.
Uzilite's "The New Adventure" is a conforming clothing set for Victoria 4. The package includes five conformers which are one full body suit, a one piece dress, boots, a pose-able computer with case, and uTNA underpants. Also included in the package are four props with accompanying hand poses.
Details
This new set adds five New Adventure conformers for Michael 4 and one for Victoria 4.
Extra Props and updated cr2s for The New Adventure Continues require The New Adventure (for Vicky 4).
Details
Not just for Star League Poster Boys (or Girls) anymore! Cloth the entire crew with this stellar morph expansion set.
Full morph fits for all 9 clothing pieces for BOTH the Michael 4 and Victoria 4 outfits plus the 2 computers and now also includes fits for the V4_UTNAShirt.
Details
One hundred and eighty nine total badges for your New Adventure and New Adventure Continues outfits
http://www.daz3d.com/the-new-adventure
http://www.daz3d.com/the-new-adventure-continues
http://www.daz3d.com/the-new-adventure-expansion
http://www.daz3d.com/badge-control-for-the-new-adventure


You need to be a member to see this