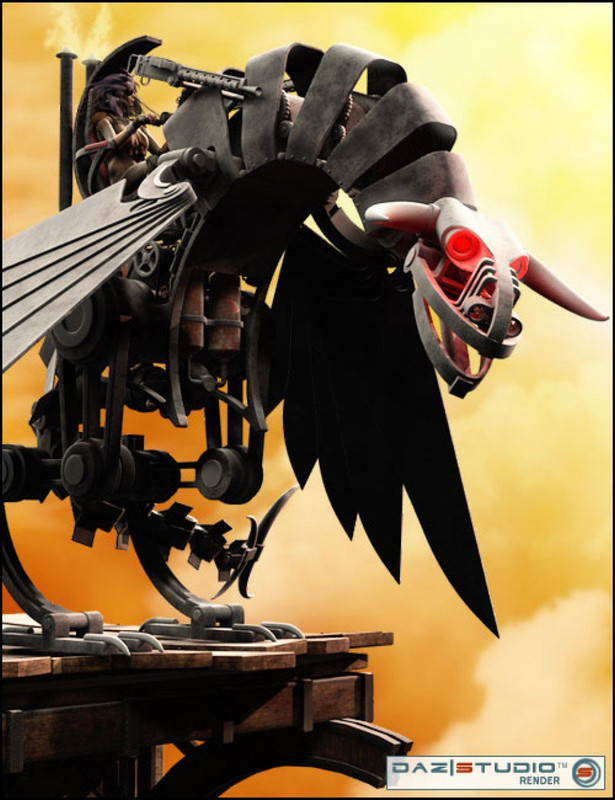 Steam Dragon Bundle
Details
Are you ready for the battle of your life? Climb behind the controls of the Steam Dragon, a fully posable figure with two heavy-duty guns and a mean pair of jaws. It walks, it flies, it blasts fire from its nostrils!
Included are three poses for the dragon and four pilot poses for M1, M3, V3, and V4.
Details
The battle of your life has begun! Let Iron Power for the Steam Dragon help you emerge victorious!
What's Included and Features
Features
Two complete texture sets for Steam Dragon:
1 texture and transparency map for Fire (800 x 600)
2 texture, bump and transparency maps for Gun (1300 x 900)
12 texture and bump maps for Metal (up to 2048 x 1536)
4 Poser 6+ Material settings (KC6)
4 Poser 5 Material poses (PZ2)
4 Material settings for DAZ
Details
There's nothing more terrifying to the troops than the shadows of a soaring squadron of Steam Dragons belching fire in a vicious battle on the land or in the clouds.
This set of 3D action poses for the Steam Dragon 3D figure turns it into a sentient being and puts Michael 4 and Victoria 4 in the pilot's chair to wage post-apocalyptic war. The Steam Dragon poses cover a range of actions, from soaring, diving, banking, landing, and crashing, to storage, walking, running and taking off. Utility poses are included to control the gun flash, nose fire and engine blast.
Includes Poser and DAZ Studio files.
What's Included and Features
Features
25 Steam Dragon full action poses and default:
4 Steam Dragon zero poses for neck, tail, legs, wings and default
8 Michael 4 Base Pilot poses
8 Victoria 4.2 Base Pilot poses
6 Gun Fire Controls
2 Engine Fire Controls
2 Nostril Fire Controls
2 Nostril Fire Controls
http://www.daz3d.com/steam-dragon
http://www.daz3d.com/iron-power
http://www.daz3d.com/steam-dragon-poses


You need to be a member to see this