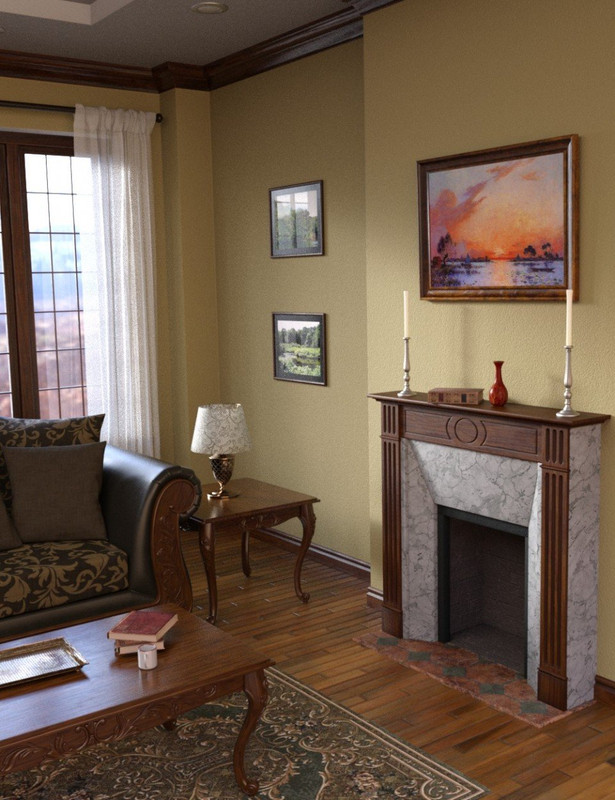 Snug Living Room
Details
Are you in need of a versatile interior environment that works in a multitude of scenes, every day and otherwise? Then you need the Snug Living Room.
This fully furnished interior set that may look simple on the surface, but has enough character and details to catch any viewer's attention in a render.
Small, cozy, and practical, as its name suggests, with clean and simple lines and warm colors, the Snug Living Room is perfectly supplemented by a set of furniture and props that come with it.
The furniture, combining classical and contemporary elements, simple larger shapes and curvy smaller details and ornaments, looks great as part of this interior set and blends nicely with all sorts of other indoor environments, ranging from classical to contemporary.
Get snug and cozy with the Snug Living Room!
What's Included and Features
Snug Living Room (.DUF)
SLR Full Scene
SLR Furniture Arranged
SLR Pictures Arranged
SLR Room
Interior set:
SLR Ceiling
SLR Curtains
SLR Floor
SLR Wall FRONT
SLR Wall LEFT
SLR Wall REAR
SLR Wall RIGHT
Furniture and Props:
SLR Chaise Longue + Pillows
SLR Chaise Longue Pillows
SLR Chaise Longue
SLR Coffee Table
SLR Lamp Table
SLR Painting 1
SLR Painting 2
SLR Photo 1
SLR Photo 2
SLR Photo 3
SLR Photo 4
SLR Pillow 1
SLR Pillow 2
SLR Pillow 3
SLR Sofa + Pillows
SLR Sofa Pillows Row 1
SLR Sofa Pillows Row 2
SLR Sofa
SLR Table Lamp
Textures Include:
137 Textures, Base Color, Normal, Height, Metallic, Roughness Maps (1024 x 1024 to 4096 x 4096)
DAZ Studio Material Presets for Iray (.DUF)
Notes
This product includes:
1 DSON Core Installer
https://www.daz3d.com/catalog/product/view/id/69371


You need to be a member to see this