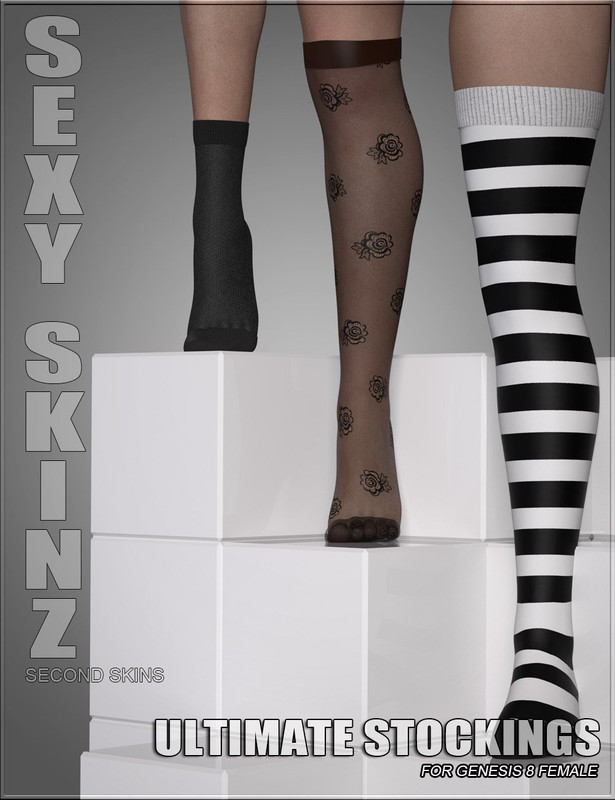 This Post Is Dead - Please Repost It
Sexy Skinz – Ultimate Stockings for Genesis 8 Female
Details
Get ready to have some real fun with this incredible mega pack of Sexy Skinz Stockings for Genesis 8 Female.
By combining both conforming pieces and Daz's versatile Geoshell feature, now you can mix, match and create a virtually endless set of stocking styles for your Genesis 8 Females.
Whether you're in the mood for thigh-highs, knee-highs or ankle-length, nylons, tights, or just plain socks, now you can make your own styles to suit all your rendering needs. Easily change the look of the bands, the toe caps or the stockings themselves with just a few clicks.
Also included in this pack, you get 40 color shaders that you can use on each of the different parts of the stockings to really create the look you're going for, and with a little imagination, the possibilities of what you can make are unlimited.
Get Sexy Skinz – Ultimate Stockings for the ultimate sock, stocking, and legging pack for Genesis 8 Female.
What's Included and Features
Sexy Skinz – Ultimate Stockings for Genesis 8 Female
01 Apply Geoshell Utility for Genesis 8 Female
01 Each Left and Right Conforming Toe Caps
01 Each Left and Right Conforming Thigh Bands
01 Each Left and Right Conforming Knee Bands
01 Each Left and Right Conforming Ankle Bands
Material Options
05 Any Color Sock Patterns for the Geoshell Stocking
05 Any Color Patterns for the Geoshell Stocking
15 Patterns for the Geoshell Stocking
09 Different Length and Transparency Settings for the Socks and Patterns
20 Lace Styles for the Geoshell Stocking (each in thigh, knee and ankle lengths)
05 Nylon Styles for the Geoshell Stocking (each in thigh, knee and ankle lengths)
08 Toe Cap Material Presets
24 Material Presets for the Leg Bands
40 Mix and Match Color Shaders
Textures
129 Bump, Texture and Transparency Maps (2048 x 2048)
Daz Studio Iray Material Presets (.DUF)
https://www.daz3d.com/sexy-skinz--ultimate-stockings-for-genesis-8-female


You need to be a member to see this