Royal Pavillion (New Links)
Royal Pavillion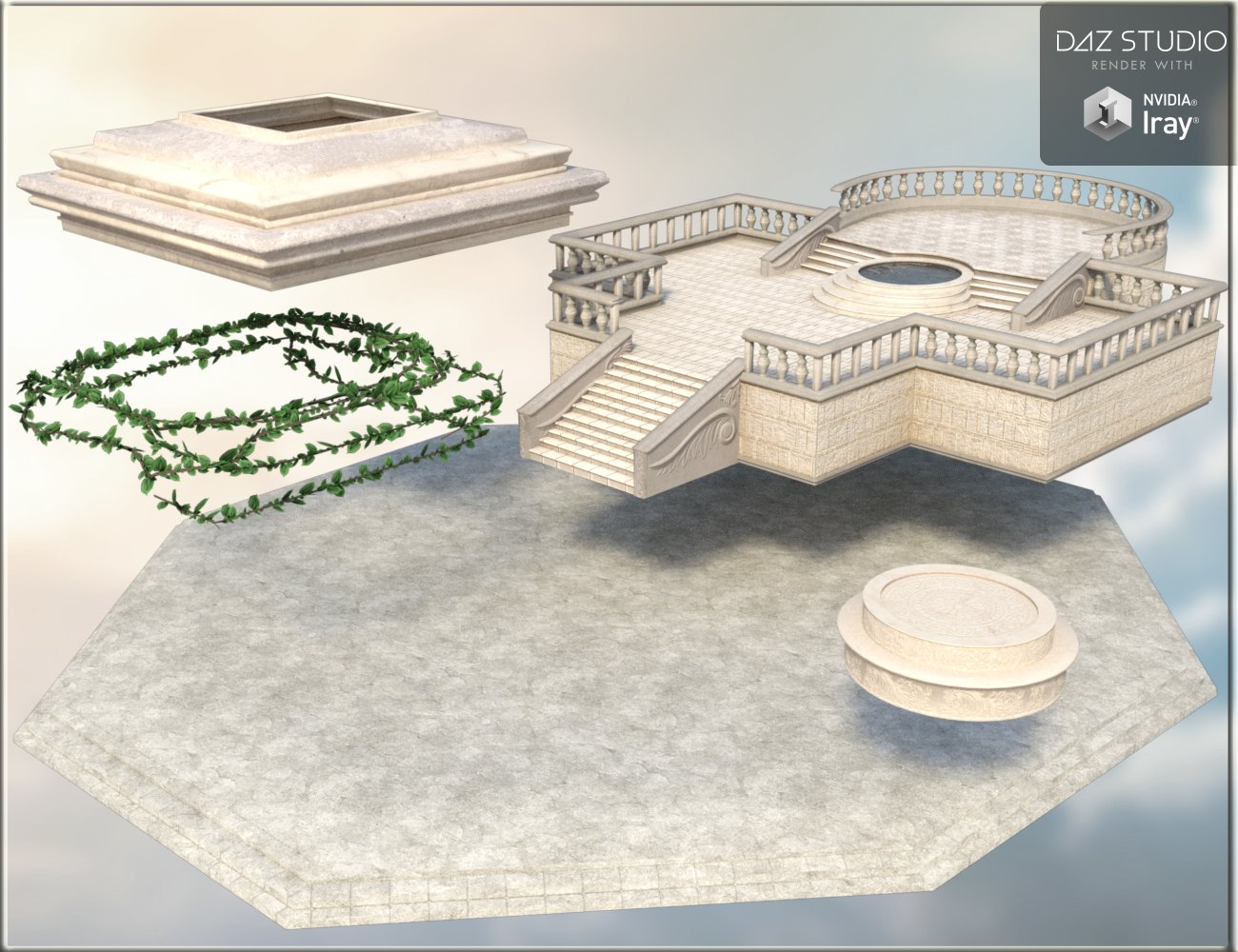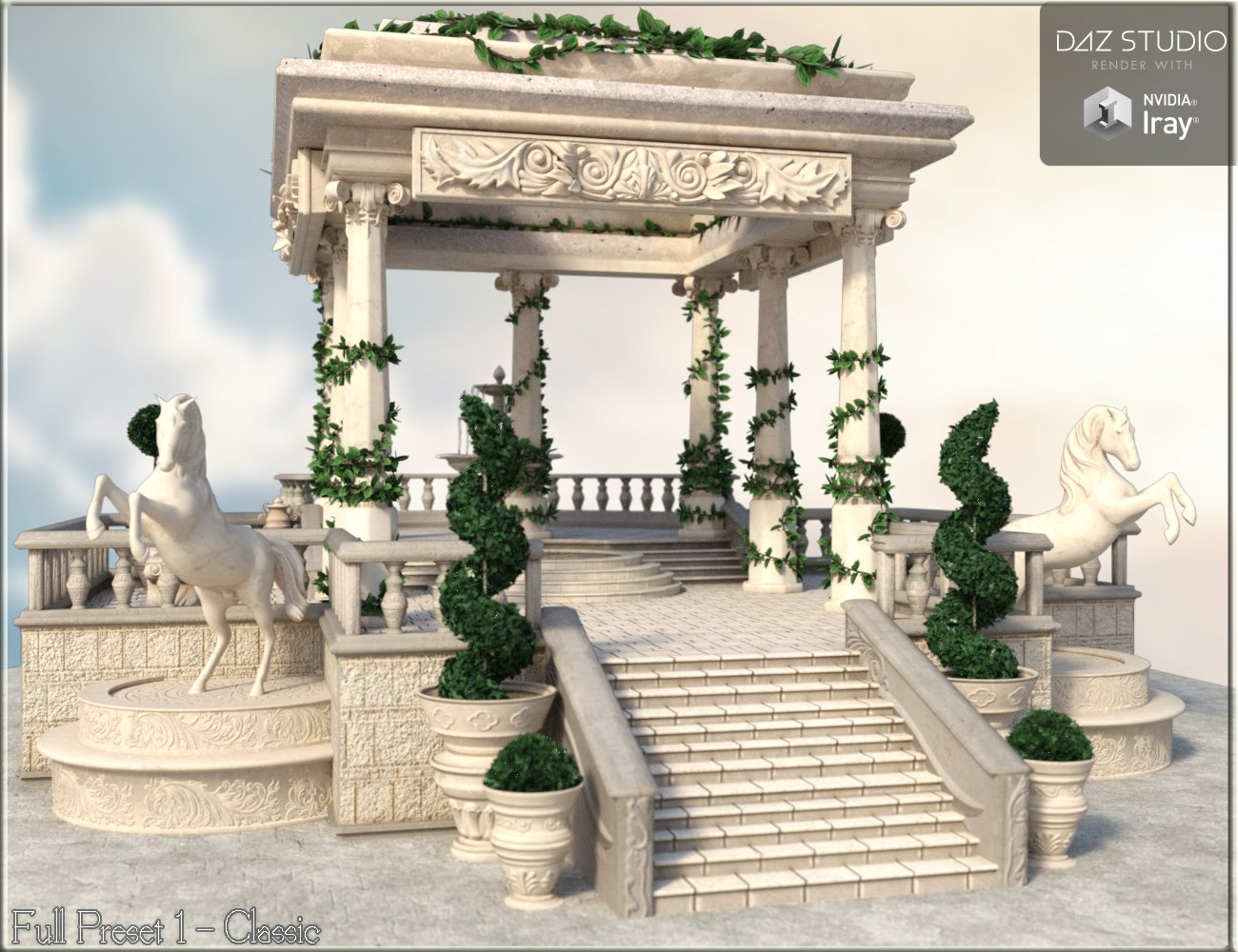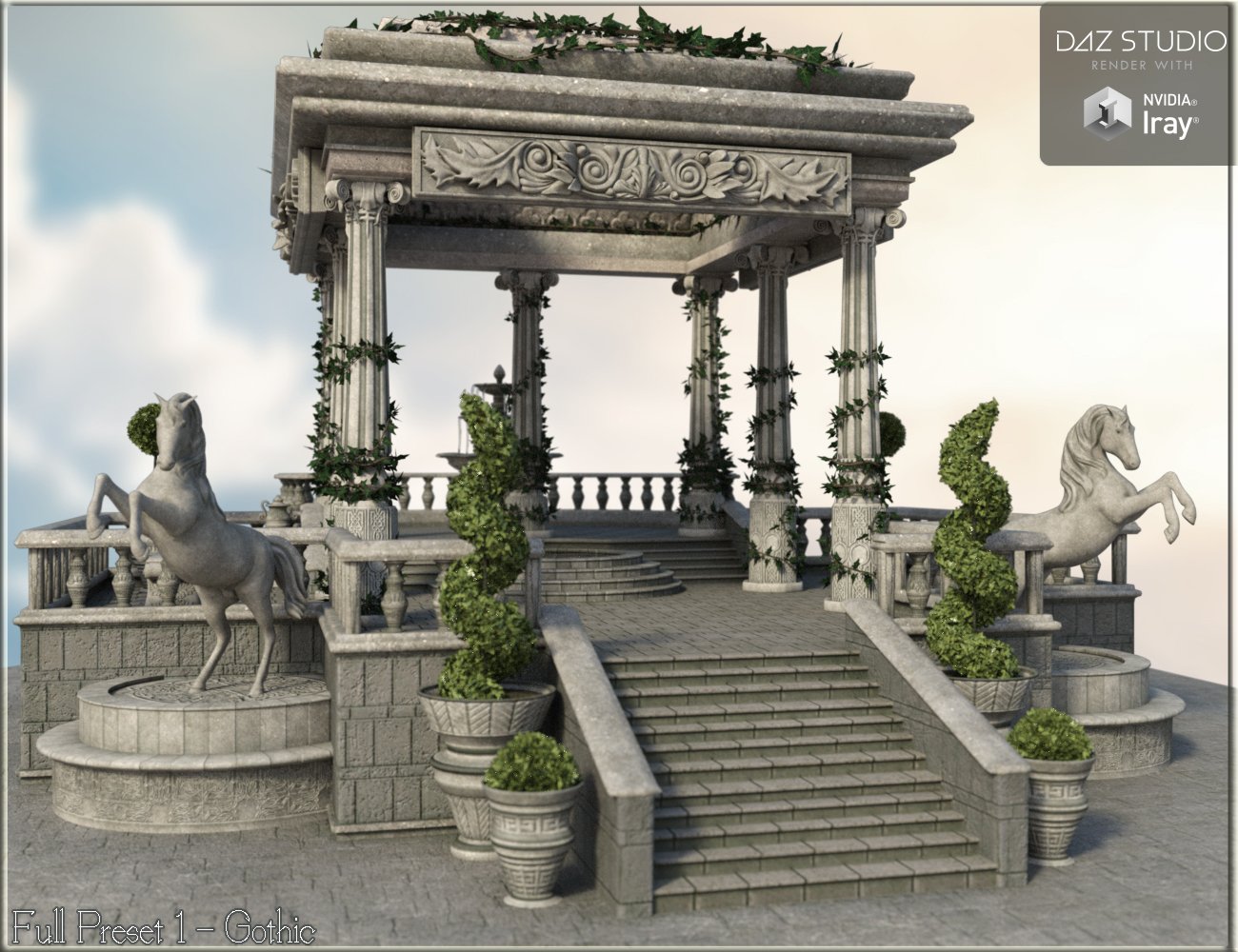 —————————————————————————————————————————
Details
———
The Royal Pavillion is a place where many an alliance has been forged and broken between Monarchies across the worlds.
Included in the product:
2 Iray color variations for the entire set. One in Classic marbles and neutral stones. The other in a Gothic style with stones in cooler grey tones.
4 Full scene presets that you can load straight into your scene. They consist of 2 different setups and each with the Classic or Gothic style materials. Instancing has been utilized, where possible, in each scene so as to not add extra unnecessary geometry.
20 props that you can use to create your own set or incorporate in other environment scenes. Each prop is available with the choice of Classic or Gothic style Iray materials.
The centre pool also has an option in each color to turn the water into a solid platform.
What's Included and Features
Royal Pavillion (.DUF)
Scenes
Royal Pavillion Scene 1 – Classic
Royal Pavillion Scene 1 – Gothic
Royal Pavillion Scene 2 – Classic
Royal Pavillion Scene 2 – Gothic
Props
Royal Pavillion Bench
Royal Pavillion Column 1
Royal Pavillion Column 1 Vine
Royal Pavillion Column 2
Royal Pavillion Column 2 Vine
Royal Pavillion Deco Piece
Royal Pavillion Horse Statue
Royal Pavillion Horse Statue 2
Royal Pavillion Main Base
Royal Pavillion Platform Base
Royal Pavillion Platform 2
Royal Pavillion Pot 1
Royal Pavillion Pot 2
Royal Pavillion Roof
Royal Pavillion Roof Vine
Royal Pavillion Topiary 1
Royal Pavillion Topiary 2
Royal Pavillion Topiary 3
Royal Pavillion Urn
Royal Pavillion Water Fountain
Iray Materials – Classic and Gothic Options for each
RP 00 ALL Scene 01
RP 00 ALL Scene 02
RP Bench
RP Column 1
RP Column 2
RP Deco Piece
RP Horse Statue
RP Main Base
RP Platform Base
RP Platform 2
RP Pot 1
RP Pot 2
RP Roof
RP Vines
RP Topiary
RP Urn
RP Water Fountain
Rp Platform Water Off
Rp Platform Water On
Textures Include
147 Texture, Bump, Normal and Transparency Maps(149 x 128 to 8192 x 8192)
Daz Studio Iray Material Presets (.DUF)
Notes
This product includes:
1 DSON Core Installer
—————————————————————————————————————————
>THANK YOU!
———————
Want to see more of my posts?
Just CLICK HERE!
—————————————————————————————————————————
https://www.daz3d.com/royal-pavillion


File Hosting: Other File Hosting