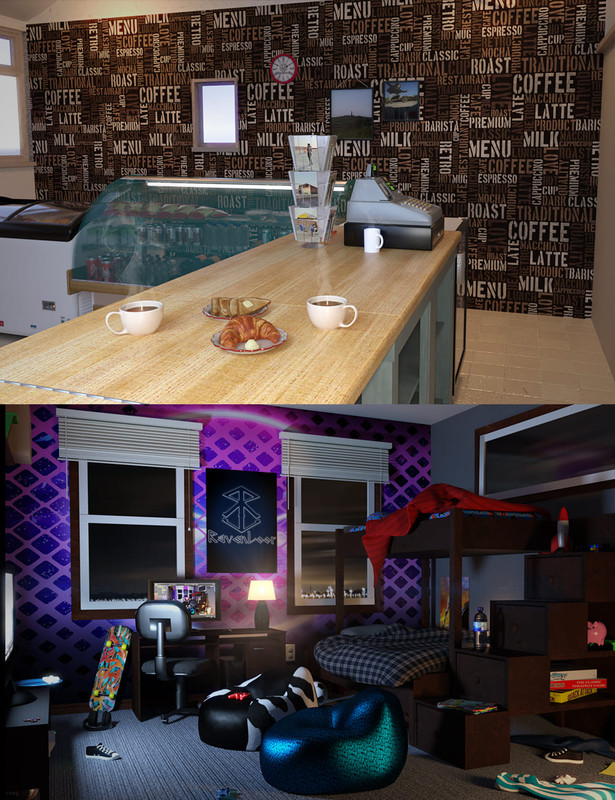 RL Wallpaper FX [Repost]
Details
This is Wallpaper FX By RavenLoor.
So you have a scene that you love to use a lot. It's perfect, but you're worried that your artwork and renders are looking a little repetitive. You wish there was a way to change it up just a bit. Sometimes, small changes make a big difference, so why not give it a go?
With this unique Wallpaper FX set, I have designed and created 8 different themes with each theme having 5 unique designs within it. There are some utilities to tile the wallpaper as much as you need and even play with the color presets. These work particularly well with the Plane (fully textured) theme set. You can also do some added Visual Effects with the VFX Tab; this will give the wallpaper added dimension, creating bubbles or creasing it up if you want a more distressed look.
So, even if you're wanting to redecorate the child's bedroom with Rainbows and Unicorns or you have a little coffee shop that could do with a fresh look, my simple-to-use wallpapers can make changes that will give your scene a completely different feel in just a few clicks.
What's Included and Features
RL Wallpaper FX: (.DUF)
RLWFX Childrens Andys Room
RLWFX Childrens Clover Heart
RLWFX Childrens Dinos
RLWFX Childrens Rainbows and Unicorns
RLWFX Childrens Space
05 RLWFX City Urban
05 RLWFX Demask
05 RLWFX Flowers
05 RLWFX Geometric
05 RLWFX Plain
05 RLWFX Stars
05 RLWFX Stripes
Utilities:
RLWFX a Reset
20 RLWFX Colors
RLWFX Tiling 01×01
RLWFX Tiling 02×02
RLWFX Tiling 03×03
RLWFX Tiling 04×04
RLWFX Tiling 05×05
RLWFX Tiling 10×10
RLWFX VFX Bubbles 01
RLWFX VFX Bubbles 02
RLWFX VFX Bubbles 03
RLWFX VFX Bubbles 04
RLWFX VFX Creases 05
RLWFX VFX Creases 06
RLWFX VFX Creases 07
RLWFX VFX Creases 08
Textures Include:
207 Texture, Base Color, Bump, Displacement, Normal, Glossiness, and Roughness Maps (4096 x 4096)
Daz Studio Iray Shader Presets (.DUF)
Notes
This product includes:
1 DSON Core Installer
https://www.daz3d.com/rl-wallpaper-fx


File Hosting: Mega.nz