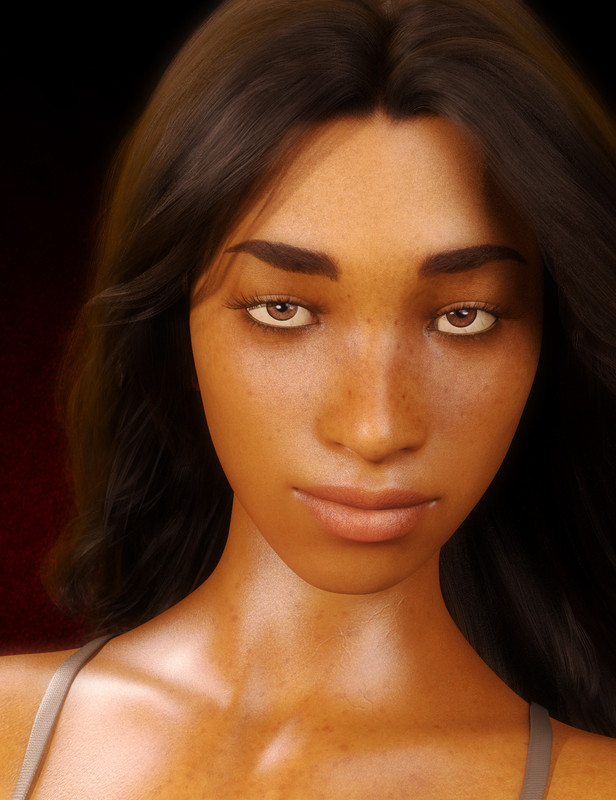 Nurys for Genesis 3 & 8 Females
MK Nurys is a custom-sculpted, mixed-race character with freckles and slightly asymmetrical facial features. She comes with no-brow options, fibermesh eyebrows, a back tattoo, and many options for eye colors, fingernail and toenail colors, facial makeup, and lip colors.
MK Nurys is an Iray-only product. For 3Dl, please check out semwy and Oso3D's free IrayTo3Delight conversion script or vyktohria's Convert It! – Iray to 3DL Characters (https://www.renderosity.com/mod/bcs/convert-it—iray-to-3dl-characters/124690/).
Features (available for both G3F and G8F):
1 Character Load, 1 Character Dial, 1 Head Morph Dial, 1 Body Morph Dial
1 Iray mat Complete
1 Iray mat Complete for gens
12 eye makeup options (plus 1 no-makeup option)
12 eye colors
12 fingernail colors
12 toenail colors (matching fingernails)
16 glossy lip colors
16 matte lip colors
12 iridescent lip colors on geoshell (usable on other G3F/G8F characters)
1 fibermesh brow (and 1 included mat for 3 mat zones, color can be customized)
1 back tattoo option
https://www.renderosity.com/mod/bcs/nurys-for-genesis-3-8-females/126885/


You need to be a member to see this