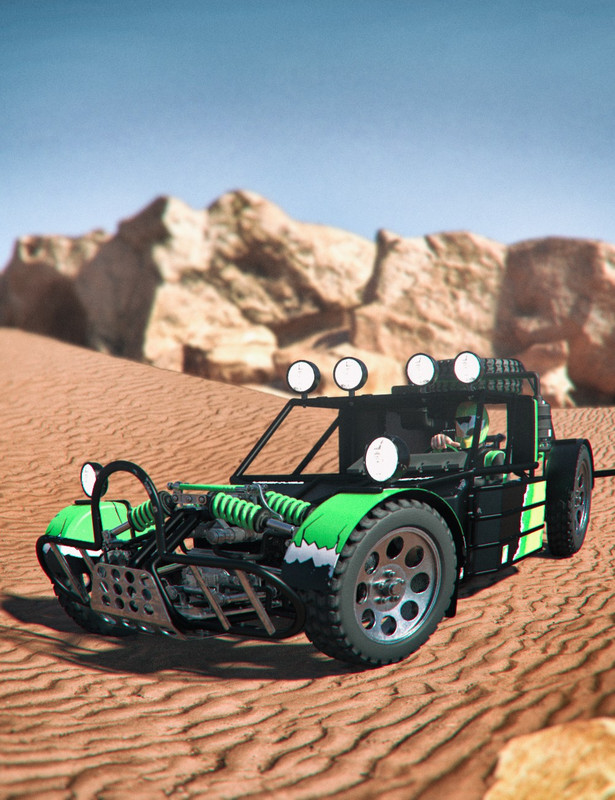 Modular buggy
The Modular Buggy is made for all of your off-road scenes.
This Buggy is totally customizable with14 wearable accessories and 7 materials preset, plus you can easily adjust the suspensions, wheels, steering wheel, seat, pedal and gear shift with poses controls.
Get the Modular Buggy for your desert, racing, escape, crust-punk or apocalypse scene today!
What's Included and Features
Modular Buggy (.DUF)
Props:
Buggy Base
Base version Complete
Base version Back Roof
Base version Bonnet
Base version Bumper
Base version Doors
Base version FL/FR/RL/RR Guard
Base version Roof Panel
Base version Top light
Base version Wheel FL/FR/RL/RR
Base version Wheels All
Poses:
17 Pose Controls
Materials:
7 Material Presets
Textures Include:
509 Textures, Diffuse, Metallic, Roughness, Height, Normal, Opacity, Emissive Maps (4096 x 4096)
Daz Studio Iray Material Presets (.DUF)
Daz Studio 3Delight Material Preset (.DUF)
Compatible Software:
DAZ Studio 4.12
https://www.daz3d.com/modular-buggy


You need to be a member to see this