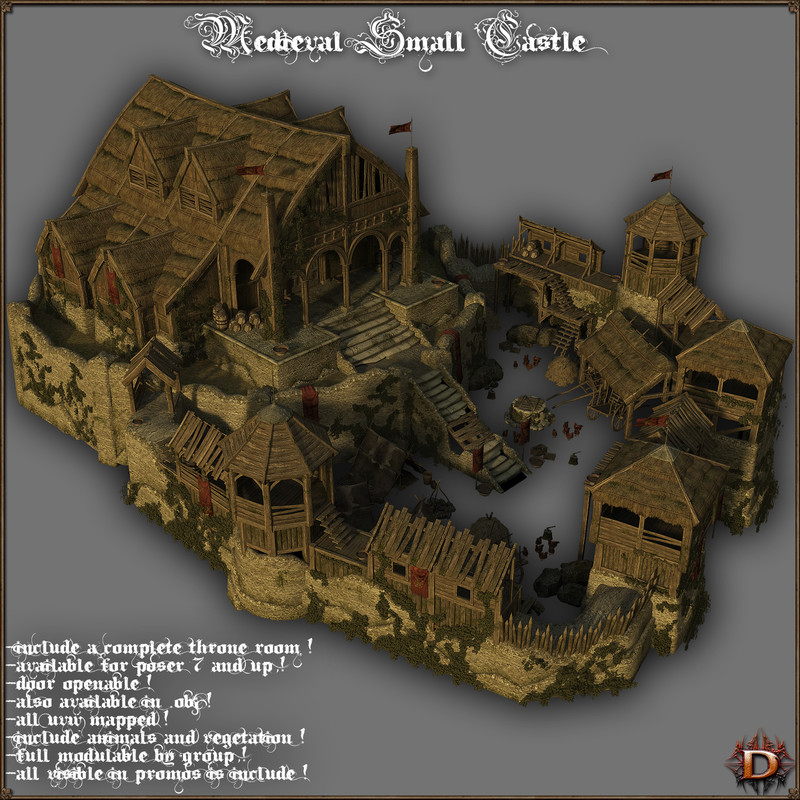 Medieval Small Castle
Medieval_Small_Castle is all UVW mapped, contains all bumps, textures, speculars and opacity's maps. Perfect for medieval scenes or to complete your medieval collection. ANIMALS ARE INCLUDED ( Hen)!! VEGETATION IS INCLUDED ! ( Ivy ) All objects visible in the promotionnal pictures are included !! INTERIOR INCLUDED WITH A COMPLETE FURNISHING !! DOORs ARE INCLUDED AND OPENABLE WITH A CUSTOM CURSOR IN POSER!!
-Interior included with complete furnishing!!
-Include speculars,textures,bumps and opacity's maps !!
-Doors are included and movable !!
-Available for Poser7 and up in .pp2 !!
-Available for other software in .obj !!
-Animals are included ( Hen) !!
-Ivy is included !!
-Full movable/modulable !
-Ground is included !
-All visible is included !
https://www.renderosity.com/mod/bcs/medieval-small-castle/115378/


You need to be a member to see this