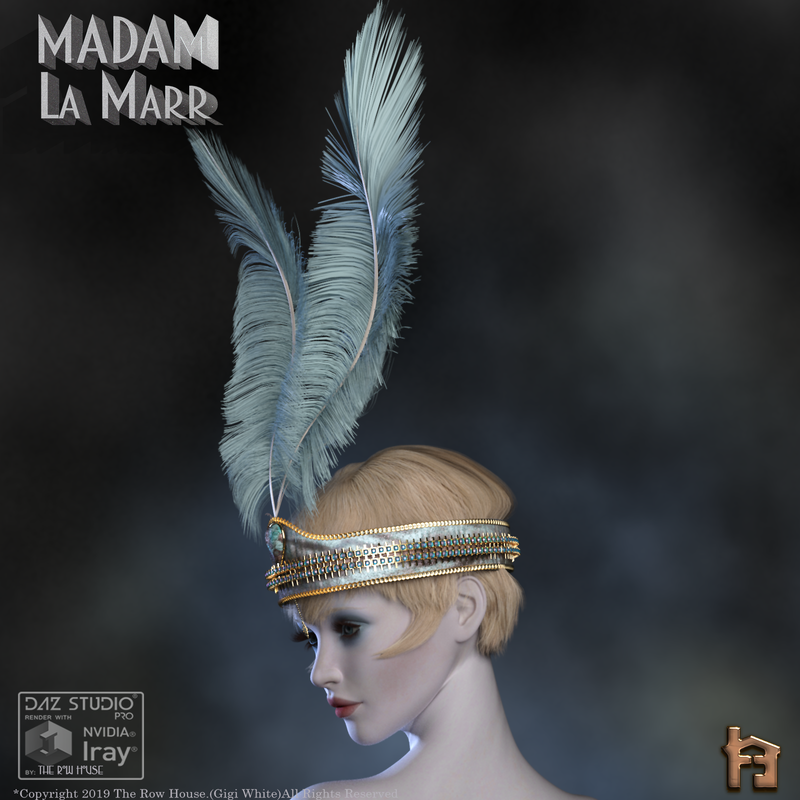 Madam La Marr 1920's Flapper HeadBand & ArmBands
We at THE ROW HOUSE™ use the finest silks, fabrics and dyes from around the world, all items are delicately handcrafted to give you the best products possible for your artistic needs.
Madam La Marr is an authentic high detailed accessory delicately handmade for the life of the Party Flapper. This gorgeous HeadBand includes matching armbands and was inspired by a set worn by the beautiful Barbara La Marr in the 1920's…La Marr was noted for her beauty, dubbed as the "Girl Who Is Too Beautiful," as well as her tumultuous personal life. During her career, La Marr became known as the pre-eminent vamp of the 1920s.
This Gorgeous 1920's Accessory is Created With Rich English Satins dressed in sparkling diamonds, real earth gemstones and shiny metals in detailed work.. Each piece is delicately hand painted in Substance Painter to give you the feel of authenticity and a taste of the roaring 20's
Authentic 1920's HeadBand with Matching Armbands for Genesis 8
This pack is packed full & Super Customizable! includes FIBERMESH OSTRICH PLUMES All Materials are delicately hand painted in Substance Painter & designed in Substance Designer to ensure the most realistic quality for your renders.
All Materials are optimized for IRAY!
What's Included in this pack?…
~Authentic 1920's Flapper Headband and L/R Armbands (Includes Customizable morphs to accomodate all shapes and morphing Ostrich Plumes)
~Authentic 1920's Art Deco Armbands (Including adjustment mophs)
~HeadBand includes:
-6 Gorgeous Presets for fast and easy setup
-10 English Silks including glittery styles
-12 Barion Cut Diamond Styles
-6 Enriched Metals
-10 Bleached & Dyed Ostrich Plume Colors
-15 Pure Earth Teardrop Cut Gemstones
-Variety of Morphs for easy fit and posing
Armbands Include:
-6 Gorgeous Armband Presets (For easy setup)
-Middle Armcuff-5 Vintage Etched Metal Styles
-Armband Rope-4 Rustic Metals
-Armband Scrolls-3 Hammered Metals
-Armband Top & Bottom-8 Painted & Hammered Metals
-Armband Base-8 Vintage Metals
-15 Pure Earth Teardrop Cut Gemstones
– Fitting Morphs
If you need to know more specific information about this pack… please refer to the ReadMe File.
I hope you Enjoy this product as much as I Enjoyed creating it!
https://www.renderosity.com/rr/mod/bcs/madam-la-marr-1920s-flapper-headband-armbands-/137549/


File Hosting: Mega.nz