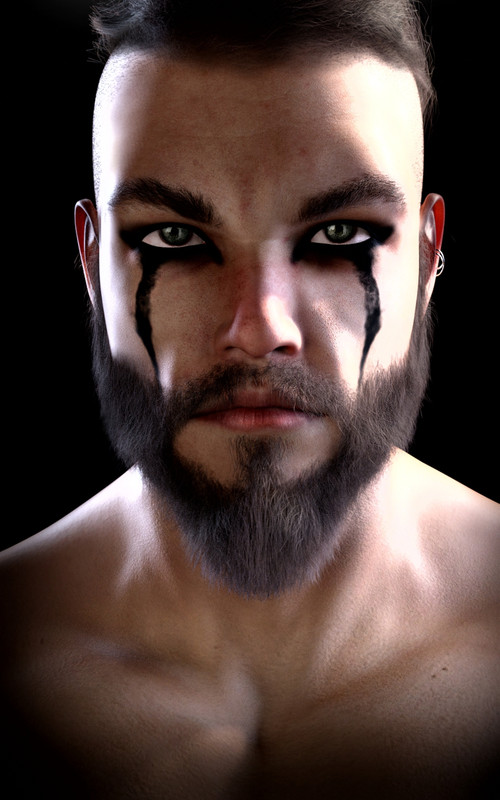 Hayden G8M
Hayden is an highly realistic man for Genesis 8 Male. Included are also a set of eyebrows and two different beards. All of these hairy pieces come with several different colors.
He was created distinctly for Artists who like realism in their renders.
The head is custom morphed but the body INJ and REM require Genesis 8 Male Body Morphs to work properly:
https://www.daz3d.com/genesis-8-male-body-morphs
Two different custom head morphs: one normal and one with scars, making Hayden perfect for romance but also battle!
The head morph includes also the Adam's apple.
Included also the MAT files for the add-on "Anatomy G8M Genitalia".
DAZ files:
– Apply Head
– Remove Head
– Apply Head Scars
– Remove Head Scars
– Apply Body
– Remove Body
– MAT Iray
– 1 MAT Arm WithTattoo
– 1 MAT Arm No Tattoo
– 1 MAT Ears Normal
– 1 MAT Ears Painted
– 4 MAT Face
– 6 MAT Eye Colors
– MAT Body With G8M Genitalia
– MAT G8M Genitalia Cut
– MAT G8M Genitalia Uncut
– MAT Body With G8M Genitalia No Hair
– MAT G8M Genitalia Cut No Hair
– MAT G8M Genitalia Uncut No Hair
HAIRY BITS:
– 1 set of Eyebrows
– 2 Beards
MAT HAIRY BITS:
– 5 MAT Beard 1
– 6 MAT Beard 2
– 4 MAT Eyebrows
This item works only in DAZ and there are DUF files in it. Iray Only
https://www.renderosity.com/mod/bcs/hayden-g8m/129321/

Required Product:Genesis 8 male Body Morphs
You need to be a member to see this