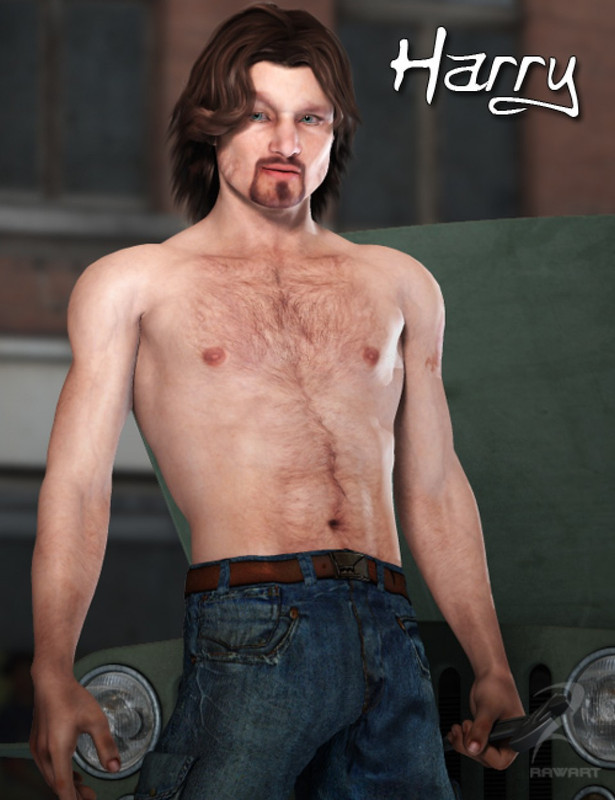 Harry - A Real Man for Michael 4
Harry: A Real Man Details
My body is covered in hair, dirt and sweat, not cologne
I don't go to fitness clubs. I work.
I shave for weddings and funerals.
I make a deal with a handshake, not a lawyer.
There are only two kinds of drinks. Bottles or Cans.
I don't drink macchiatos, I drink coffee... black.
Food is made out of meat.
Clothes are made out of denim.
If something is broke, I fix it.
If I dont have the parts, I make em.
I open doors for women.
If you insult my girl, my mother or my country, I will hit you.
If I am wrong, I will buy the next round.
My Name is Harry
...and I am a man.
What's Included and Features
Features
Harry Character for Michael 4:
Harry INJ/REM
One Pale Body Option
One Tanned Body Option
One Worker-Tanned Body Option
Two Anatomical Element Texture Options
Five Pale Face Variations
Five Tanned Face Variations
Five Aged Face Variations
Two No-Brow Face Variations
Three Eye Variations
Separate Arm, Leg and Torso Tan Options
Two Grimey Hand Options
Bonus Arm Tattoo Option
Textures:
44 Texture, Displacement and Specularity Maps (4000 x 4000)
13 Texture, Displacement, Transparency and Specularity Maps (1000 x 1000)
Poser MAT Poses (.PZ2)
Poser 6+ Material Presets (.MC6)
DAZ Studio Material Presets (.DS)
Material Poses to Apply All Presets
http://www.daz3d.com/harry-a-real-man


You need to be a member to see this