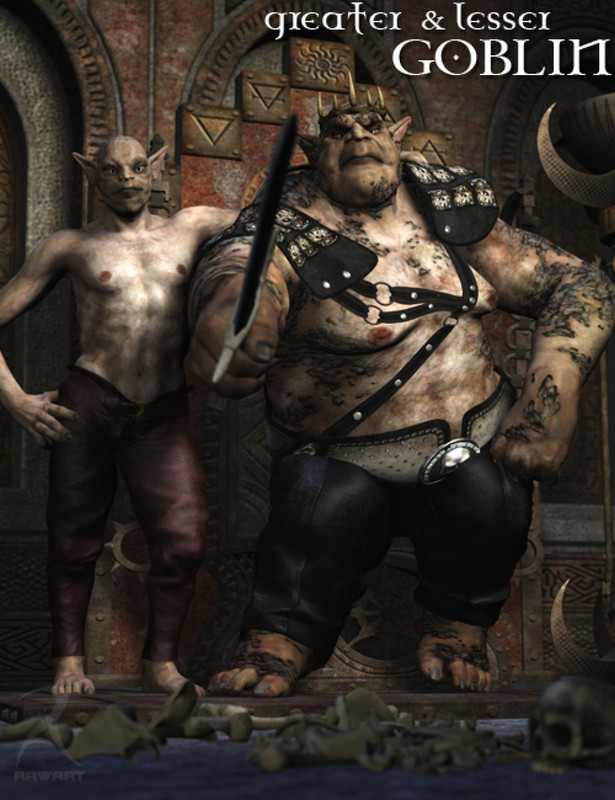 Greater and Lesser Goblin
Details
Out of Middle Earth these creatures come forth. Merely annoying and mischievous or grotesquely evil, these creatures are a menace to any wholesome adventure.
Made Great by his might, the Great Goblin bares the marks of his too frequent encounters with the sun. Barnacle like incrustations of stone cover his hide as a crude natural armour.
The Lesser Goblin is only so due to his youth, in time he may also become a mighty warrior.
Custom crafted for Genesis, these creatures can bring some interesting drama to your renders.
What's Included and Features
Greater and Lesser Goblins:
Character Presets (.DUF)
Shapes (.DUF and .PZ2)
Skin Mats (.DUF and .MC6)
Goblin Crown (.DUF and .PP2)
Textures:
26 Texture, Bump, Displacement, Specular and Transparency Maps (1000 x 1000 up to 4000 x 4000)
Poser Material Presets (.MC6)
DAZ Studio Material Presets (.DUF)
Notes
This product includes:
1 DSON Core Installer
1 Poser Companion Files Installer
http://www.daz3d.com/greater-and-lesser-goblin


You need to be a member to see this