This Post Is Dead - Please Repost It
CruX Sweet Rebel G8 (Corrected Files)
CruX Sweet Rebel G8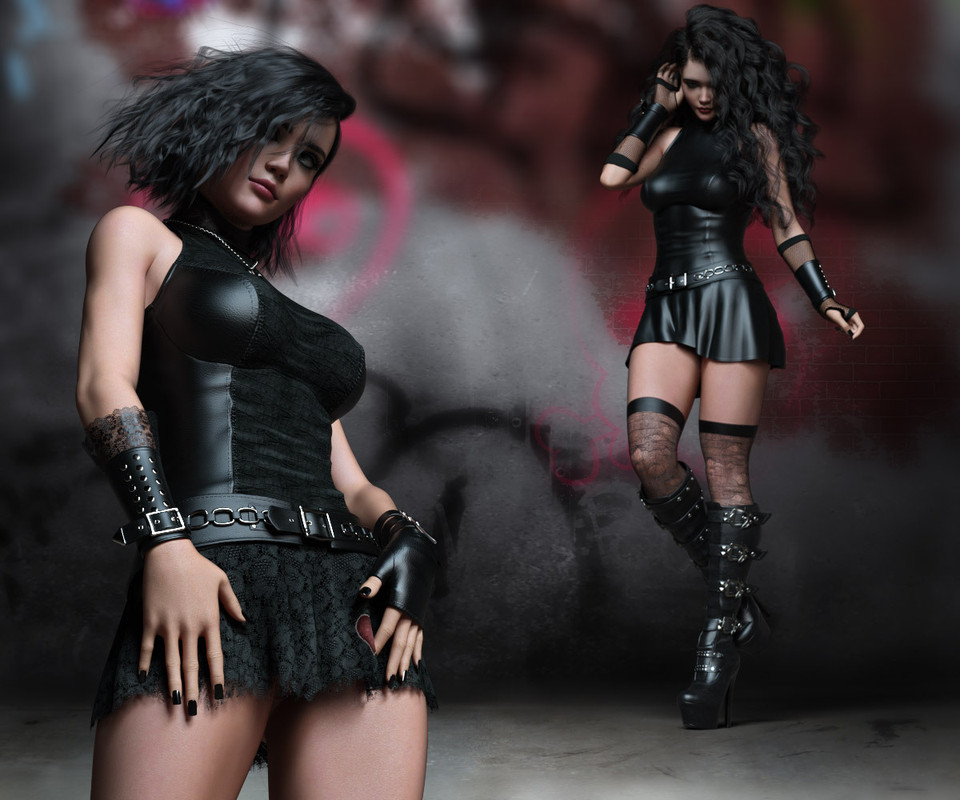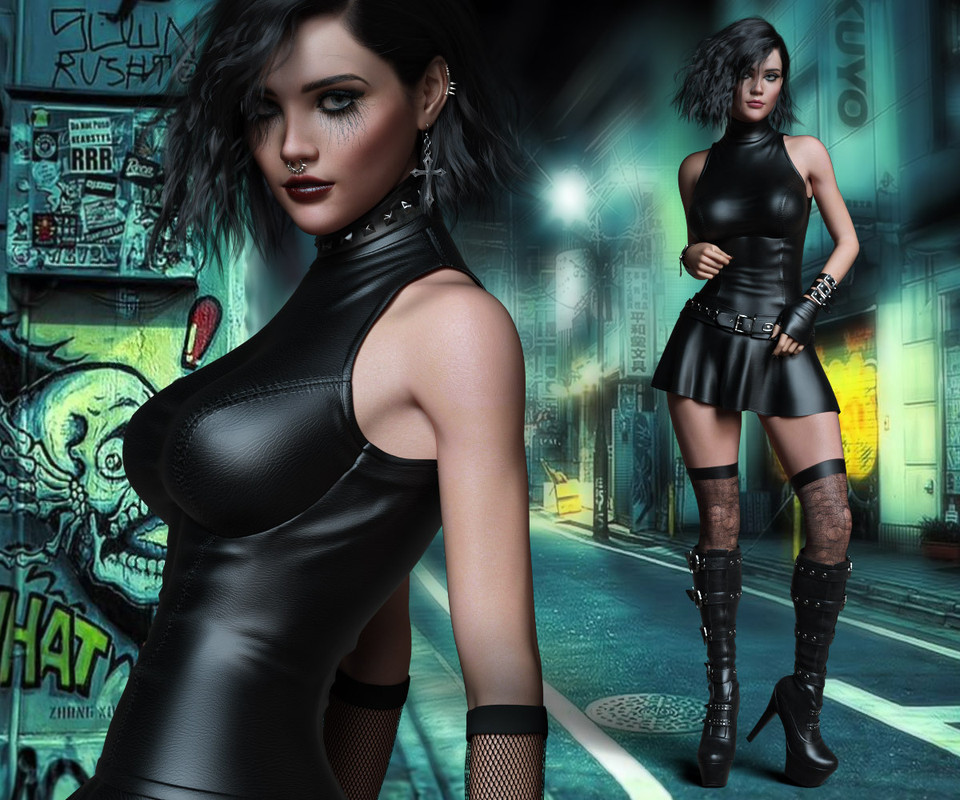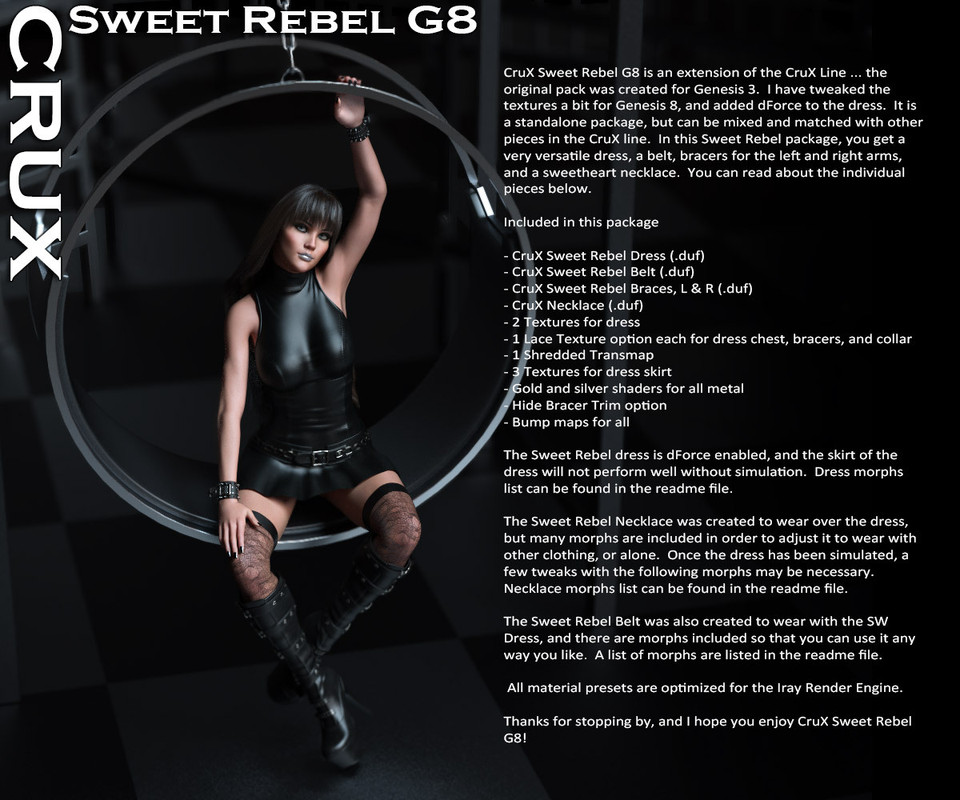 —————————————————————————————————————————
Details
CruX Sweet Rebel G8 is an extension of the CruX Line ... the original pack was created for Genesis 3. I have tweaked the textures a bit for Genesis 8, and added dForce to the dress. It is a standalone package, but can be mixed and matched with other pieces in the CruX line. In this Sweet Rebel package, you get a very versatile dress, a belt, bracers for the left and right arms, and a sweetheart necklace. You can read about the individual pieces below.
Included in this package
- CruX Sweet Rebel Dress (.duf)
- CruX Sweet Rebel Belt (.duf)
- CruX Sweet Rebel Braces, L & R (.duf)
- CruX Necklace (.duf)
- 2 Textures for dress
- 1 Lace Texture option each for dress chest, bracers, and collar
- 1 Shredded Transmap
- 3 Textures for dress skirt
- Gold and silver shaders for all metal
- Hide Bracer Trim option
- Bump maps for all
The Sweet Rebel dress is dForce enabled, and the skirt of the dress will not perform well without simulation. The dress material zones include collar, chest, chest sides, abdomen, skirt, dress, zipper, and zipper pull. Dress morphs include:
Adjust Abs Low
Adjust Back Waist
Adjust Chest Mid
Adjust Glutes
Adjust Hips
Adjust Neck
Adjust Stomach
Adjust Waist
Back Waist Higher
Front Waist Lower
Neck Down
Raise Hem Front
Lower Hem Back
The Sweet Rebel Necklace was created to wear over the dress, but many morphs are included in order to adjust it to wear with other clothing, or alone. Once the dress has been simulated, a few tweaks with the following morphs will likely be necessary. Necklace morphs include:
Adjust Chain Back
Adjust Chain Fit
Adjust Chain Front Back
Adjust Chain Front Forw
Adjust Chain Front
Adjust Neck Back
Adjust Neck Left
Adjust Neck Right
Adjust Neck Up Left
Adjust Neck Up Right
Adjust Neck
Adjust Pendant
Move All Down
Move All Up
Rotate All Up
The Sweet Rebel Belt was also created to wear with the SW Dress, but here are all the morphs included so that you can use it any way you like:
Adjust Back
Adjust Front
Adjust Hips
Adjust Left
Adjust Love Handles
Adjust Right
Adjust Waist
FBMExpandAll
Move Back Up
Move Front Down
IMPORTANT dForce TIPS:
-- Pay attention to your pose, and before simulating, move hands, feet, etc. away from the dress and other body parts if they make contact, so that there is a small gap for the fabic to drape properly. After simulating, you can adjust them back to the desired position.
-- If you get an unwanted result after simulating, experiment with the morphs provided to solve the issue, or use the animated timeline for simulating so that you can pinpoint the problem more easily.
-- Make sure that you use the "Clear" button in between simulations.
-- When using body morphs on your character, it's best to apply them beforehand from a memorized pose, however, when using an animated timeline, I find it's best to apply body morphs at the last frame before simulating.
All material presets are optimized for the Iray Render Engine.
Thanks for stopping by, and I hope you enjoy CruX Sweet Rebel G8!
—————————————————————————————————————————
Thanks for stopping by.
Want to see more of my posts?
Just CLICK HERE!
—————————————————————————————————————————
https://www.renderosity.com/rr/mod/bcs/?ViewProduct=157937


File Hosting: Other File Hosting