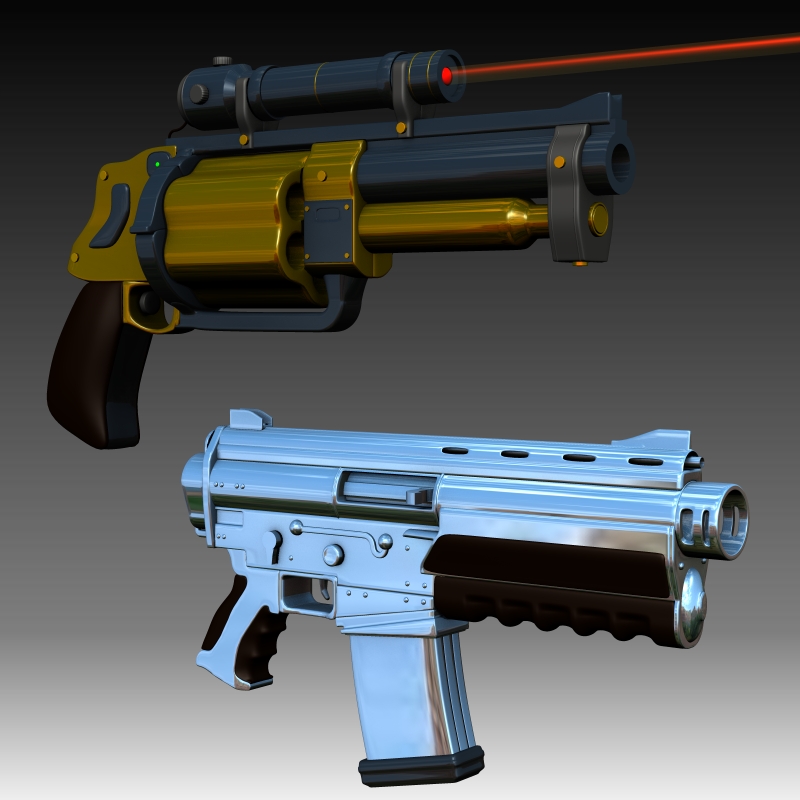 BOLTERS BUNDLE (for Poser)
This bundle is made of two characters for Poser7 and greater.:
BOLTER_BLASTER
HEAVY_BOLTER
WARNING: NOT TESTED IN DAZ STUDIO!
THE TWO BOLTERS ARE LOCATED IN THE BOLTERS_BUNDLE FOLDER.
You can easily change the textures of each model in the Material Room.
You can hide or show the BOLTER_BLASTER LAZER BEAM.
ERC Dials:
Select GUN/Parameters.
BOLTER_BLASTER ERC DIALS:
6 VIRTUAL TOOTHED WHEELS ARE CREATED. You must begin by the first DIAL and use them in the order, if you want to shoot more than one shot.
SHOOTING: THE TRIGGER IS PULLED, THE BULLET STARTS, THE CASE REMAINS IN THE CYLINDER, THE CYLINDER TURNS ( 60°), THE CYLINDER IS READY FOR A NEW SHOT.
SHOOTING1: idem
SHOOTING2: idem
SHOOTING3: idem
SHOOTING4: idem
SHOOTING4: idem. But now, you have shot your last bullet. The empty cases are remaining in the cylinder…
HEAVY_BOLTER ERC DIAL:
1 VIRTUAL TOOTHED WHEELS IS CREATED.
SHOOTING: THE TRIGGER IS PULLED, THE BULLET STARTS.
WARNING : DON'T FORGET TO SELECT Figure/Use Limits!
Due to the speed of the bullet, it's difficult to make it visible. You can modify the bullet speed by selecting each ERC DIAL/Settings/sensitivity and increase or lower the number.
https://www.renderosity.com/mod/bcs/bolters-bundle-for-poser-/102902/


You need to be a member to see this
Warning !! Secure Your Connection Before You Start Downloading !!