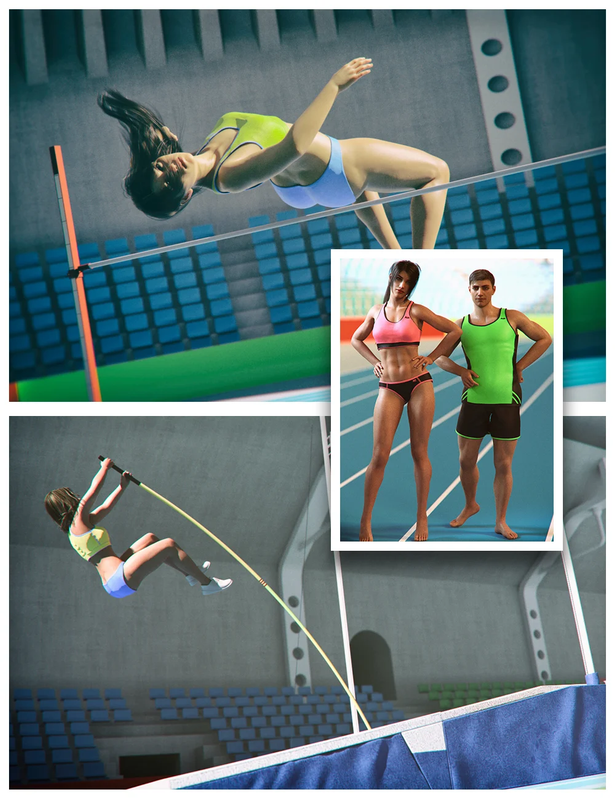 Athletic Props for Genesis 8 [REPOST]
Details
Athletic Props is a great set of accessories that includes a pole vault, a high jump, and 10 preset materials for basic wear.
You will find more than 30 poses to place your characters in action.
You just need to use the wearable pose for the bare and the hierarchical pose will do the rest.
You will also find 10 material presets for the basic wear (supplied with the Genesis 8 Starter Essentials) to adapt the colors to your needs.
Take advantage of this ready-to-use set to achieve magnificent renderings.
What's Included and Features
Athletic Props for Genesis 8: (.DUF)
Pole Vault:
PV Carpet
PV Pole
02 Wearable right hand For G8 Female
02 Wearable right hand For G8 Male
14 Poses Preset For G8 Female
14 Poses Preset For G8 Male
High Jump:
HJ Carpet
HJ Bar
High Jump Sample Scene
10 Poses For G8 Male
10 Pose For G8 Female
01 Pose Controls for Bar
04 Morph controls For Carpet
Materials Iray:
For Pole:
Pole Blue
Pole Green
Pole Red
Pole White
Pole Yellow
For Basic wear G8F (Sports Bra and Pantie)
Black and Pink
Black and Yellow
Blue and White
Blue and Yellow
Red and Black
For Basic Wear G8M (Boxer and MuscleShirt)
Black and Green
Black and Yellow
Blue and White
Blue and Yellow
Red and Black
Textures Include:
130 Texture, Diffuse, Metallic, Roughness, Normal, Height Maps (4096 x 4096)
Daz Studio Iray Material Presets (.DUF)
https://www.daz3d.com/athletic-props-for-genesis-8


File Hosting: Mega.nz