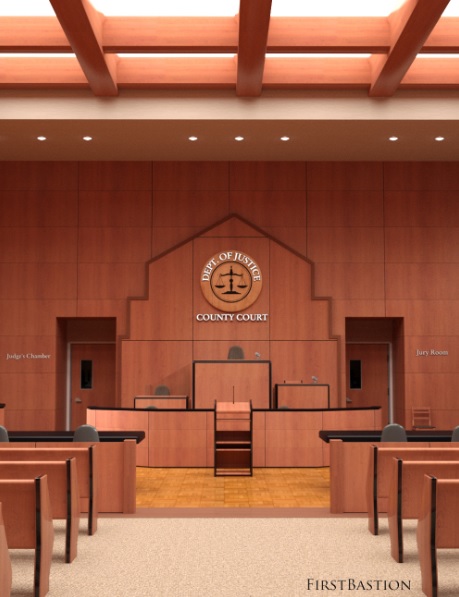 1stBastion's CourtRoom (Repost)
Details:
1stBastion's CourtRoom is a full 3D interior of a modern county court room with places for all the major players including, Judge, Deputy, Prosecutors, defense attorneys, 12 Jurors, court clerks, court reporters, bailiffs and witness box. Additional court pews for the onlooker and audience and additional space in the back for journalist and security for those more serious offense cases.
As with some courtrooms, there is a podium with microphone at center court to address the judge (it can be hidden or removed). There are additional microphones for the Judge and witness. There are doors that would lead off to the Jury Room and the Judge's Chamber. There is a rear hall at the back of the court that would lead off to other halls.
Large windows cast light from the sky outside, and all the props can be moved or repositioned as necessary. Includes the promo lightset for both render engines and multiple camera angles with ready to render efficiency. Plenty of material zones allow for customization and different looks. Surfaces can accept any shaders.
What's Included and Features
1stBastion's CourtRoom: (.DUF)
Iray and 3Delight Version available
Textures Include:
54 Texture, Bump, Displacment, Normal, and Specular Maps (256 x 256 to 4096 x 4096)